Grilled Beef Tenderloin with Fingerling Potato and Mushroom Tapenade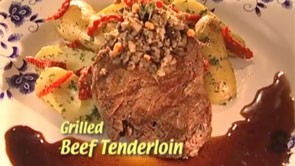 Print Friendly

Ingredients
6 oz. beef tenderloin, grilled to taste (Let rest several minutes before slicing)
4 new white medium-sized potatoes
1 sprig thyme
1 sprig rosemary
1 sprig sage
1 tablespoon extra virgin olive oil
1/3 cup cider vinegar
2 tablespoons Dijon mustard
1/2 cup chopped chives
1 medium sweet white onion, finely chopped
Preparation
Scrub potatoes and cut in half.
Put potatoes, thyme, rosemary, and sage into a 4-quart saucepan and add enough water to cover. Boil until tender. Drain and chill for about an hour.
Remove potatoes from refrigerator and cut each half lengthwise into three sections.
Using a 12-inch skillet, add olive oil, vinegar, mustard, chives, and onion. Caramelize by heating over medium-high heat, stirring frequently.
When onions have caramelized, add potato sections and stir to coat.
Continue cooking on low until potatoes are heated through.
Wild Mushroom Tapenade Ingredients
1/2 lb. portobello mushrooms
1/2 lb. shiitaki mushrooms
1/2 lb. oyster mushrooms
10 white mushrooms
3 ounces sundried tomatoes, soaked until soft
4 teaspoons shallots
3 cloves garlic
1/4 cup capers
6 anchovy fillets
2 oz. Asiago cheese, cubed
1 teaspoon fresh rosemary
1 teaspoon fresh thyme
3 teaspoons white truffle oil, drizzled over above ingredients
3 cups extra virgin olive oil
Wild Mushroom Tapenade Preparation
Grill the mushrooms over low flame.
In your food processor bowl, add grilled mushrooms and all other ingredients except olive oil. Attach food processor bowl cover and process on pulse until finely chopped.
Slowly add olive oil while processor is running.

Balsamic Reduction Ingredients
2 cups balsamic vinegar
1/2 cup honey
Balsamic Reduction Preparation
Cook over medium heat until reduced by half.
To serve: Place thinly sliced beef tenderloin on bed of fingerling potatoes and dress with Wild Mushroom Tapenade drizzled with Balsamic Reduction.