Grilled Chicken Gorgonzola Salad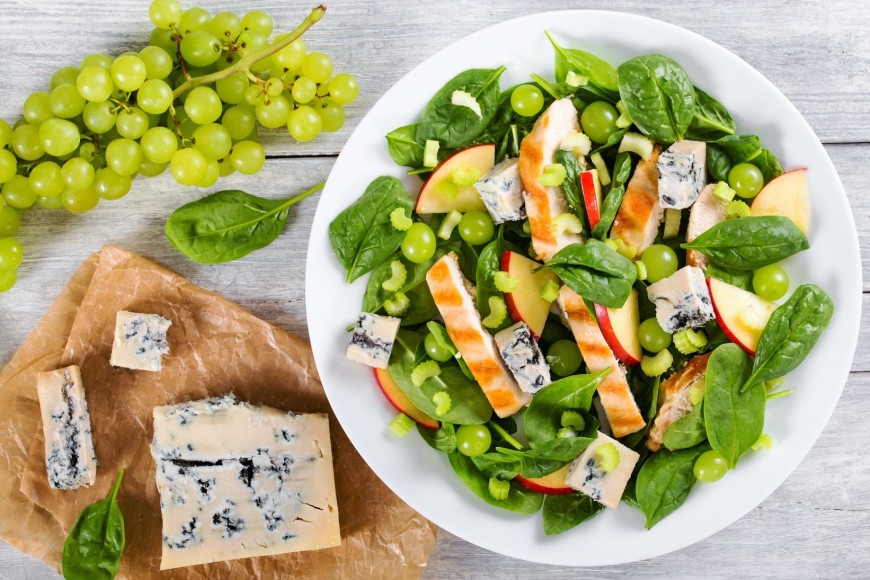 Print Friendly
Chef Paul Lucas, Jessie's, Hanover, New Hampshire
Ingredients
6 cups Mesclun-Romaine mixture
5 slices fresh pear
2 oz. Gorgonzola crumbles
2 oz. candied walnuts
2 oz. dried cranberries
6 oz. marinated chicken breast (grilled)
Maple Vinaigrette Dressing Ingredients
1 1/2 teaspoons capers, drained
1 1/2 teaspoons parsley
1/2 teaspoon dry mustard
1 1/2 teaspoon kosher salt
1 1/2 teaspoon pepper
1 1/2 teaspoon lemon juice
1 1/2 teaspoon powdered sugar
1/2 cup cider vinegar
1/4 cup olive oil
1 cup salad oil
1/4 cup maple syrup
Preparation
Mix the capers and parsley in a food processor until fine.
Moisten the mustard with the lemon juice to make a paste.
Mix all ingredients except oils and whip thoroughly.
Lastly whip in both oils in a steady stream to incorporate.
Cover the mesclun romaine mixture with the gorgonzola crumbles, candied walnuts, and dried cranberries.
Top with the sliced grilled marinated chicken breast.
Finish off with slices of fresh pear and a touch of Maple Vinaigrette dressing.
Serves two.