Grilled Fajitas with Flank Steak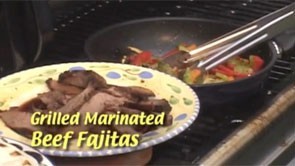 Print Friendly
Harpoon Brewery
Steak Ingredients
4 pounds flank steak
1 orange (juice)
1 lemon (juice)
Lawry's seasoning, to taste
Salt and pepper
1 chili pepper
1/4 bottle Harpoon IPA beer
Fajita wrappers
Steak Preparation
Marinate the flank steak for at least 2 hours in the orange juice, lemon juice, Lawry's seasoning, salt, pepper, chili pepper, and Harpoon IPA beer.
Toss steak on grill until it's nice and hot, 140-145 degrees F at the center.

Filling Ingredients
2 green peppers, seeded and sliced
2 red peppers, seeded and sliced
2 orange peppers, seeded and sliced
1 onion, sliced
1 clove garlic, minced
1/2 cup beer
Filling Preparation
Place fajita wrappers on grill to toast, flip them making sure not to burn.
In skillet, stir together the peppers, onion, garlic, and beer until heated.
Remove steak from grill and slice.
Take fajita wrapper off grill.
To serve: Put pepper and onion filling and steak inside fajita wrapper.
Fold together and enjoy.