Grilled Flatbread Pizza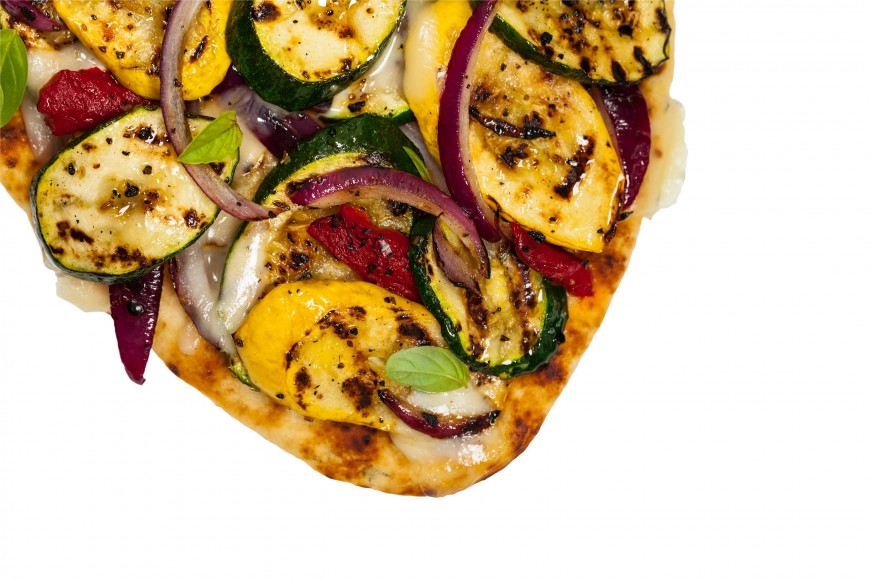 Print Friendly
Dough Ingredients
3 tablespoons sour cream (or yogurt or buttermilk)
1/3 cup ice water
1 cup King Arthur all-purpose flour
1/4 cup yellow corn meal
1 teaspoon sugar
1/2 teaspoon salt
7 tablespoons cold unsaturated butter, cut into 6-to-8 pieces
Dough Preparation
Stir sour cream and 1/3 cup ice water together in a small bowl and set aside.
Put the flour, cornmeal, sugar, and salt in a large bowl and stir with a fork to mix.
Drop the butter pieces into the bowl, tossing them once or twice to coat them with flour. Work the butter into the flour, aiming for pieces that range in size from bread crumbs to small peas. The smaller pieces will make the dough tender, the larger will make the dough flaky.
Sprinkle the cold sour cream mixture over the dough, 1 tablespoon at a time. Toss with a fork to evenly distribute. After all the sour cream is added, the dough should be moist enough to stick together after pressed. If it's not, add additional cold water, 1 teaspoon at a time. With your hands, gather the curds of dough together (you should have a soft malleable dough). Chill the dough.
Then take the dough out of the bowl and divide it in half (or quarters, depending on how many pizzas you want to make).
Press each piece of dough into a disk, wrap in plastic and rest it for at least 2 hours.
Mix together 1/4 cup olive oil, 3 cloves of chopped garlic, salt, and pepper.
Brush on pizza dough that has been stretched out to form the pizza crust(s).
Grill dough until browned, flipping and grilling both sides (can be made on a grill or in a cast iron skillet).

Pizza Toppings (or put on whatever you like)
1 sliced or chopped tomato
Fresh mozzarella, sliced
Shredded mozzarella
1-or-2 peppers sliced (any color)
A few heads of broccoli
Sliced mushrooms
Sliced or chopped onions
Capers
Green peppercorns
Hummus
Feta cheese
Pizza Topping Preparation
Cook for 1-or-2 more minutes, until toppings look good enough to eat!
Dough recipe courtesy of Julia Child.