Grilled Marinated Bratwurst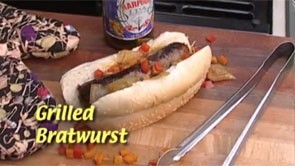 Print Friendly
Harpoon Brewery
Ingredients
Bratwurst (use as many as you need)
3-4 large white onions, sliced 1/4-inch thick
2-to-3 bottles or cans (12 oz.) of Harpoon beer
2-3 tablespoons butter
Preparation
Slice the bratwurst in half lengthwise, but not all the way through. Flatten them out over a hot grill turning once, until nicely browned on both sides.
Meanwhile, melt butter in hot frying pan. Add the onions and saute until translucent.
Place cooked onions in a large saucepan or Dutch oven. Add the grilled bratwurst.
Add the beer to cover, about 2 inches over onions and bratwurst. Heat through and keep warm until ready to serve. This can be as long as you like, because the longer they sit in the beer, the better.
Serve on submarine (hoagie) or sourdough rolls with plenty of mustard and warmed sauerkraut.