Grilled Marinated Flank Steak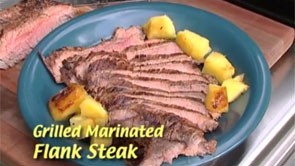 Print Friendly
Harpoon Brewery
Ingredients
1/4 cup Harpoon IPA beer
1 tablespoon lemon juice
1 teaspoon Dijon-style mustard
Fresh ground black pepper
1/4 teaspoon dried herbs - thyme, marjoram, etc.
1 teaspoon Worcestershire sauce
1 teaspoon soy sauce
1 teaspoon honey, brown sugar, or Vermont maple syrup
Dash of hot sauce (optional)
1 clove garlic, halved

Preparation
Whisk ingredients, except garlic, together.
Add garlic, and pour over steak, turning to completely coat all sides of the meat. This will cover two or more servings of steak.
Let sit in refrigerator, covered, for at least an hour or overnight.
Pour off marinade and discard.
Grill steak as usual. If grilling in a pan, when you finish cooking the steak, remove from pan and keep warm.
Add a little wine or vinegar to the pan and stir up all the juices and bits.
Let evaporate (takes a minute or two) and pour over steak.