Grilled Marinated Venison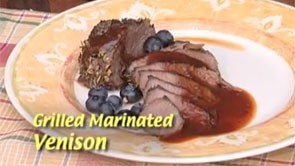 Print Friendly
Harpoon Brewery
Ingredients
2 venison steaks (or loins, chops, or fillets)
2 bottles Harpoon IPA beer
2 tablespoons dried garlic chips
2 tablespoons fresh rosemary
1 tablespoon dried lavender (optional)
Salt and pepper
Olive oil
Tamarind chutney/red currant jelly/or other game sauce
Preparation
The morning of your feast, place venison steaks into a ziplock bag.
Add two bottles of Harpoon IPA beer. Remove air from bag for total immersion.
Place bag in refrigerator for 4-8 hours.
1/2 hour before cooking, drain the beer. Aggressively pat dry the steaks with a paper towel to remove excess moisture.
Cover both steaks with olive oil, and salt and pepper steaks generously. Cover both steaks with rosemary, garlic, and lavender.
Start up fire on grill medium-high heat.
1.5" steaks should take 6-7 minutes per side. Venison are best cooked to a tender medium-rare center (DO NOT OVERCOOK).
Let steaks stand covered for 5-10 minutes.
Slice finished steaks before serving with Tamarind chutney/red currant jelly/or other game sauce.