Grilled Pulled Pork Sandwich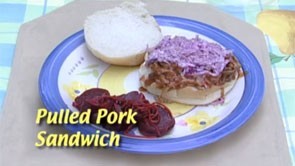 Print Friendly
Ingredients
1 boneless pork shoulder roast (Boston Butt), 4-to-5 pounds rolled and tied
Hamburger buns or round rolls
Dry Rub Ingredients
1/4 cup teaspoon cumin
1/4 cup packed brown sugar or granulated maple sugar
1/2 cup sweet or hot paprika
1/4 cup chili powder
2 tablespoons ground red pepper
2 tablespoons garlic
2 tablespoons onion powder
1/4 cup salt
1/4 cup pepper
Dry Rub Preparation
Stir together ingredients. Spread over both sides of pork.
Store any left over steak rub in a jar to maintain freshness. It will stay potent for up to 6 weeks if kept in an airtight container in a cool, dry, dark place.
Sauce Ingredients
3 tablespoons butter
1/2 cup minced onion
2 cups ketchup
2/3 firmly packed light brown sugar
1/2 cup dark mustard
1/2 cup cider vinegar
2 teaspoons Worcestershire sauce
1 teaspoon Tabasco sauce
Kosher salt
Pepper
Sauce Preparation
In small saucepan over medium-high heat, melt the butter.
Cook the onion in the butter, stirring occasionally until translucent, about 4-to-5 minutes.
Add the rest of the sauce ingredients and bring to a boil.
Reduce heat and simmer 10 more minutes. Set aside and allow to cool to room temperature.

Roast Preparation
Season both sides of pork with dry rub.
Grill fat side up over indirect medium heat until internal temperature reaches 185-190 degrees, 1 1/2-to-2 hours, depending on the thickness. The meat should be tender enough that it pulls apart easily.
Remove from grill, and thinly slice, chop, or pull the pork into shreds with your fingers or 2 forks.
Put meat in bowl, pour the sauce over the meat, and mix well.
Put on toasted bun with or without coleslaw. You can use store-bought slaw or make your own (recipe follows).
Slaw Ingredients
3/4 cup mayonnaise
1/4 cup white vinegar
1 tablespoon sugar
1 cup vinaigrette (optional)
1 small head chilled green or red cabbage
Salt and pepper, to taste
Preparation
Mix all ingredients, except the cabbage, together.
Core cabbage, remove outer leaves, and chop or grate.
Stir in just enough dressing to moisten the cabbage.
Can add chopped parsley, chives, or other herbs to add even more flavor.