Grilled Steak and Scallion Rolls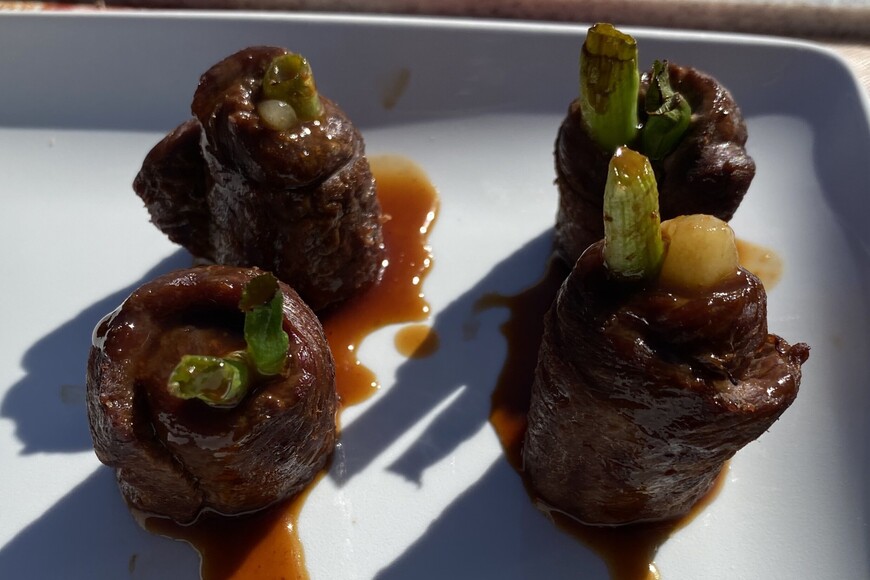 Print Friendly
(Serves 4 as an appetizer)
Ingredients
BBQ Teriyaki Sauce:
½ cup of your favorite BBQ sauce
½ cup of soy sauce
½ cup of sherry or sake
For the Rolls:
2 thin, boneless venison steaks, 4 or 5 ounces each
4 wild leeks (ramps) or scallions, split lengthwise and cut into four pieces
½ cup or so of BBQ Teriyaki Sauce (recipe above)
Cabot Seriously Sharp Cheddar, Cabot Clothbound Cheddar, or Cabot Lite50 Sharp Cheddar, 2 or 3 ounces, cut into thin
strips, approximately the same size as t
Directions
COMBINE the BBQ teriyaki sauce ingredients in a small sauce pan and heat over medium high heat until it just comes to a boil. Reduce the heat immediately and let cook on a simmer for 10 to 15 minutes. The sauce will cook down to about 1 cup.
POUNDING makes the venison thin and as tender as possible. The best way to do this is to place the venison steaks between two sheets of waxed paper or plastic wrap on a cutting board and gently pound it with a meat mallet, flat side of a cleaver or even the bottom of a heavy, cast iron skillet. Stop when the steaks are nice and uniformly thin, about 1/8-inch thick or so. The pieces of meat should be somewhat rectangular in shape. Using a very sharp knife, cut them in half crosswise to make two roughly equal square shapes. Arrange a line of the leeks
or scallions and the cheese strips down one side of each square. Roll the pieces tightly into cylinders and hold in place with toothpicks.
PREHEAT the oven's broiler or light the grill. Dip the venison rolls into the BBQ teriyaki, making sure they are well covered with the sauce. Place the rolls in a cast iron skillet, grill pan or griddle and broil for 3 or 4 minutes on each side. Baste them a little on each side while they are cooking. When they are done, remove from the heat and place on a cutting board. Remove the toothpicks and using a sharp knife cut the rolls into 1 inch long pieces.
Stand them upright on end so their centers can be seen, add a little more sauce and enjoy