Grilled Stuffed Pork Chops with Basil, Sun-Dried Tomatoes and Goat Cheese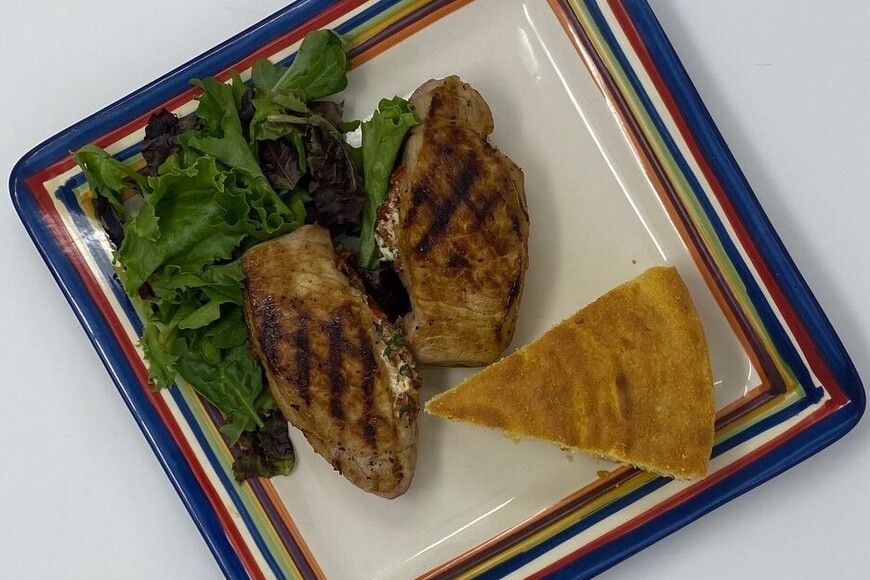 Print Friendly
Ingredients
2 pork chops, boneless center cut
6 or 7 leaves of fresh basil, chopped
2 or 3 tablespoons of sundried tomatoes, chopped
2 or 3 tablespoons of goat cheese
Salt and pepper
3 or 4 tablespoons of Worcestershire sauce, for marinade
3 or 4 tablespoons of soy sauce, for marinade
Directions
Pre-heat your grill to medium high to high heat.
Place the pork chops on a cutting board and with a paring knife that has a good sharp point, insert the tip of the knife horizontally into one side of the chop and carefully cut a pocket without cutting all the way through. The best way to do this is to insert the knife in one direction and slowly carve one half of the chop and then turn the knife over and do the other half. Salt both sides and place them in a pan or shallow bowl with the Worcestershire and the soy sauce.
Prepare the filling by mixing the basil and sun-dried tomatoes.
When the pork chops have marinated for a few minutes, remove them from the marinade and place on a cutting board or plate. Take a tablespoon or so of the goat cheese and carefully stuff the back of each pocket. Next take a tablespoon or so of the basil and sundried tomato mixture and fill the rest of each pocket. By placing the basil and sundried tomato mixture in on top of the goat cheese it helps to keep the cheese from melting out during the cooking.
Place the pork chops on the grill and cook for 6 to 7 minutes without turning. Then using tongs or a wide spatula carefully turn them to the other side and cook another 6 or 7 minutes. Remove from the heat and let rest for a few minutes before serving.
Serve with grilled vegetables, salad, rice or your favorite potato dish and enjoy.