Grilled Tuna with Roasted Beet Vinaigrette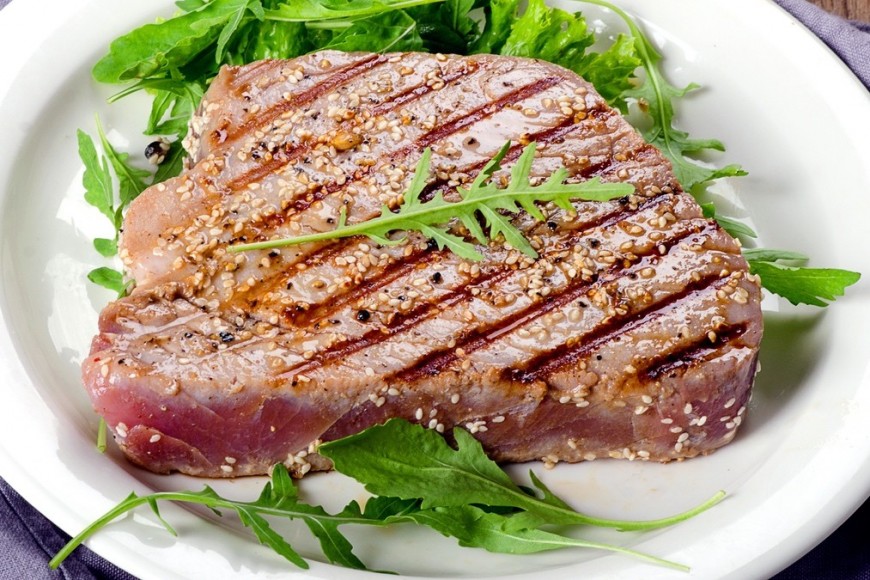 Print Friendly
Sarducci's Restaurant, Montpelier, Vermont
Ingredients
Four 5 oz. tuna steaks
12 asparagus spears, blanched or grilled
5 oz. feta, crumbled
1 fennel bulb, shaved
2 groovy tomatoes
1 small jar Kalamata olives
1 package Mesclun greens
1 large beet, roasted, peeled, and diced
1 small shallot, diced
3 tablespoons balsamic vinegar
3 fl. oz. olive oil
1 lemon, juiced
4 basil leaves, minced
Salt and pepper, to taste
Preparation
Prepare all vegetables ahead, which may be served chilled with the tuna hot off the grill or sauté pan.
Make vinaigrette by combining beet with the shallot, add salt and pepper, and stir in the balsamic vinegar. Whisk the oil in a steady stream (it's okay for it not to be completely blended).
Season the tuna steaks and grill or sauté over high heat, until fish is medium rare or done to your pleasure.
Season and dress greens, then arrange vegetable components, and top with tuna sliced to show off your remarkable culinary capacity.
Sprinkle with crumbled feta.