Gumbo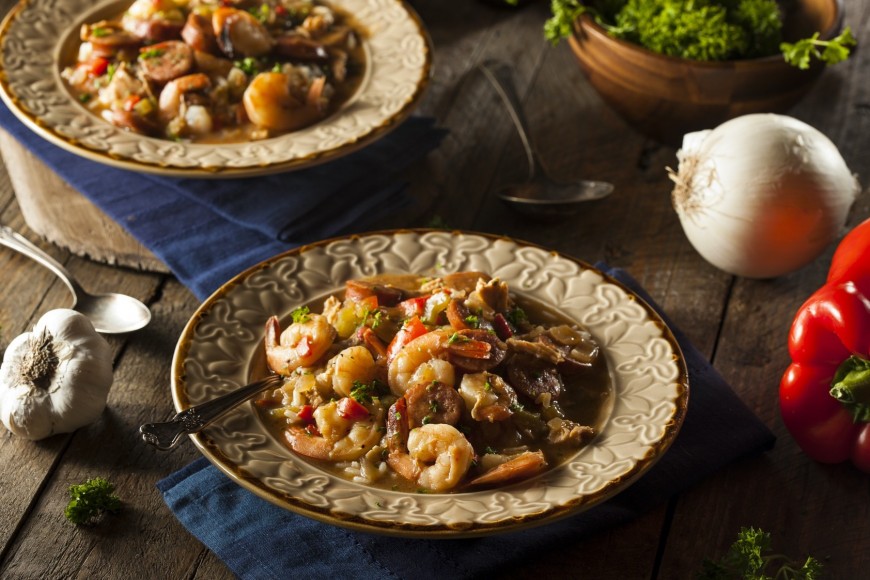 Print Friendly
Chef Jimmy Kennedy, River Run Restaurant, Plainfield, Vermont
Ingredients
2 medium onions, peeled and chopped (about 2 cups)
1 1/2 medium green bell peppers, seeded and chopped (about 1 1/2 cups)
2 small stalks celery, trimmed and chopped (about 1 cup)
2 tablespoons chopped garlic
1 tablespoon salt
1 tablespoon coarsely ground black pepper
1 tablespoon white pepper
1/2-to-1 tablespoon cayenne pepper
1 tablespoon dried thyme
1 1/2 teaspoons dried oregano
1 1/2 teaspoons dried basil
1 cup canola oil
1 cup all-purpose flour, or more if needed
7 cups stock, preferably fish stock, or broth made with fish bouillon (chicken will do)
1 pound andouille sausage, sliced
2 pounds crawfish meat
9 cups cooked white rice
Preparation
Mix the chopped vegetables and garlic together.
Measure and combine the salt, spices, and herbs.
Measure out the oil and flour, keeping extra flour handy if you need it for thickening.
Put the stock in a big soup pot.
Now, in a skillet, brown the sausage (or meat or game of your choosing). Remove the sausage with a slotted spoon and set it aside.
The next step is to make the roux. Heat the oil in a Dutch oven over very high heat. When it just starts to smoke, start adding the flour, a few tablespoons at a time, whisking constantly. Adjust the heat to medium-high. Whisk constantly (a long-handled whisk works best) until the roux reaches a very dark brown, almost black color (think of the color of dark chocolate). If it is not thickening up, add a little more flour. This whole process will take 15-to-20 minutes; you may think the roux is burned and ruined, but this is how it is suppose to look.

When the roux is nice and dark and thick (the consistency of cake frosting), turn off the heat and add the vegetables and spice mix. Continue whisking for a few more minutes. Set the Dutch oven aside.

Heat the stock until it reaches a boil. Add the roux-vegetable mixture to the boiling stock, stirring with a whisk or long-handled spoon. When all the roux has been added, put the pot on a low boil and, while stirring, add the cooked sausage. Stir well, reduce the heat, and simmer for about 1/2 hour, with the pot mostly covered.

If you are using crawfish meat, it is probably precooked, so add it and cook just enough to warm it through. If using shrimp, shell it, add to the pot, and cook until just done, about 3-to-5 minutes (do not overcook). Serve over a mound of rice in a deep dinner plate or large bowls.
Serves 8-10.
It's always a good idea to get everything good and ready before you start any recipe, but that's especially true with this one.
Gumbo will keep for several days, covered, in a refrigerator, and does not suffer from reheating. If, after serving it the first time, you wind up with more leftover "gravy" than meat or fish, just add more cooked meat or seafood (poached chicken is easy and works well) to extend your gumbo for another meal.
Gumbo is often cited as an example of the melting-pot nature of Louisiana cooking, but trying to sort out the origins and evolution of the dish is highly speculative. The name derives from a West African word for okra, suggesting that gumbo was originally made with okra.