Herb Goat Cheese Crostini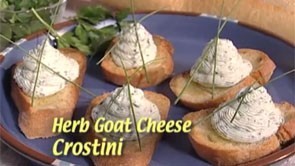 Print Friendly
Ingredients
1 French bread baguette
2 cups Vermont Butter & Cheese Chevre (goat cheese)
1 tablespoon parsley, chopped
1 tablespoon chives, chopped
1 tablespoon oregano, chopped
1/2 cup olive oil
1 teaspoon crushed garlic
Preparation
Put goat cheese into mixing bowl. Add parsley, chives, and oregano. Mix with electric mixer for about 1 minute on low speed until light and fluffy.
Cut French bread diagonally into 1- inch slices. Brush slices with a mixture of 1 teaspoon crushed garlic and 1/2 cup olive oil.
Place bread slices on a cookie sheet and put under broiler until light golden brown. Remove from under broiler.
Fill pastry bag with herb and goat cheese mixture. Pipe onto French bread slices. May also be used on crackers.
Garnish with chive sprigs, capers, caviar, or any favorite garnish.