Hungarian Goulash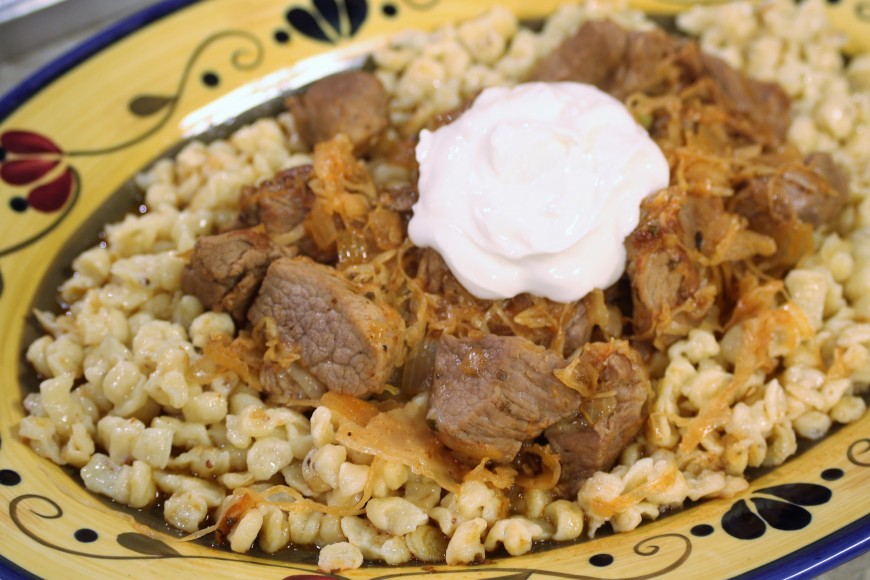 Print Friendly
Gerry Nooney, Vice President of Culinary Operations, Sugarbush Resort
Ingredients
1 onion, small dice
3 tablespoon vegetable oil
3 lbs. pork, cut 1.5-inch pieces or smaller or bigger, your choice
1/4 cup sweet Hungarian paprika
1 teaspoon hot Hungarian paprika (substitute cayenne, if needed use less, it's hotter)
2 cups chicken stock
1/2 can sauerkraut
1/4 cup ketchup
1 1/2 tablespoon dried whole leaf marjoram
Sea salt, to taste (I use about 3/4 teaspoon)
Sour cream
Preparation
Put a large pot (at least 3 quart) of salted water into roasting oven as soon as possible.
Sweat the onion in the oil, add the paprika, and place into the roasting oven for 2 minutes.
Into the large pot of boiling salted water, add the pork, and bring to a rolling boil for 1 full minute. This will work best on boiling plate. Strain and rinse.
Add blanched meat to onion mixture, add stock, kraut, and ketchup and place into the baking oven until fork tender. Takes around 90 minutes. Use good judgment and don't rush it.
Add marjoram and salt, and cook 5 more minutes.
Serve with sour cream, either mixed in or dollop on top.
This is a poor man's dish. It's more sauce and filler than meat. Don't be afraid to add a little more stock or water if you have it. Use good judgment. Make this dish your own.
Serves 4.