Impastata Pasta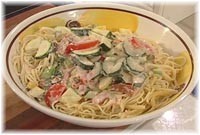 Print Friendly
Ingredients
2 heaping tablespoons Vermont Butter and Cheese Roasted Red Pepper Impastata
1 cup cream
1 tablespoon butter
Chopped garlic
Sliced or cubed green and yellow squash
Chopped basil
2 chopped tomatoes
Chopped asparagus
Salt and pepper, to taste
Pasta, boiled for 8-to-12 minutes
Preparation
Pour cream in pan and bring to a simmer.
Add Roasted Red Pepper Impastata and stir.
Add dash of salt and pepper, garlic, and chopped basil and stir.
As Impastata starts to melt, put in the rest of the ingredients.
Toss in the asparagus, green and yellow squash, and tomatoes at the last moment.
Then toss in butter. Stir till it boils.
Pour over pasta