Jake's Tailgate Chili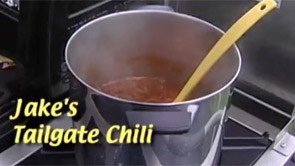 Print Friendly
Cabot Creamery
Ingredients
1 package mild or sweet Italian sausage (10 oz.)
1 package hot Italian sausage (10 oz.)
1 pound lean ground beef
1 large onion, chunked
2 cloves garlic, minced
1 can chopped jalapenos (4 oz.)
1 cup red wine
1/4 cup Worcestershire
1 teaspoon dry mustard
1 teaspoon celery seed
1 1/2 teaspoon chili powder
1 teaspoon cayenne powder
1/2 teaspoon salt
1 1/2 teaspoon fresh ground pepper
1 can (28 oz.) crushed tomatoes
2 cans (28 oz.) whole tomatoes, chunked
2 cans (15 oz.) red kidney beans
Cabot Sharp or Extra Sharp Cheddar, shredded
Preparation
In large 4 1/2 quart pot, brown ground beef.
Add both sausages and cook until browned, breaking into bite-sized pieces, about 8-10 minutes.
Add onion, garlic, and jalapenos (caution: these are very hot), and simmer 4-to-5 minutes.
Stir in Worcestershire and wine.
Add mustard, celery seed, chili powder, cayenne powder, salt, and pepper and simmer for 10 minutes.
Add crushed tomatoes and whole tomatoes (cut into chunks), and liquid. Heat to boiling, reduce heat, and simmer (covered) for 2 hours, stirring occasionally.
Add kidney beans, with liquid, and heat to boiling. Reduce heat and simmer 1 hour (still covered).
Serve in individual cups or bowls with Cabot Shredded Cheddar on top.
HOT CHEESE PRETZEL DIP
Ingredients
1 tablespoon Cabot Salted Butter
2 cups Cabot Extra Sharp Cheddar Cheese, shredded
1/2 teaspoon dried, crushed tarragon
1/4 cup finely diced green onion
1 medium clove minced garlic
1 teaspoon cornstarch
3/4 cup room temperature beer
3 oz. cubed cream cheese
1 bag large soft pretzels
Preparation
Before you begin preparing the cheese dip, wrap pretzels in foil and place in a warm oven.
Using a 4-quart sauce pan, melt butter over low heat.
Add onion, tarragon, and minced garlic. Saute until tender and onion and garlic are translucent.
Whisk in cornstarch and add the beer, then continue cooking until thick and mixture is bubbling. If it appears that the sauce is sticking to the bottom of the saucepan, you may want to reduce the heat to the lowest setting.
Add the two cheeses slowly, continuing to stir until fully melted.
Serve hot cheese dip with the warm soft pretzels from the oven.