Jambalaya with lobster stock and Shrimp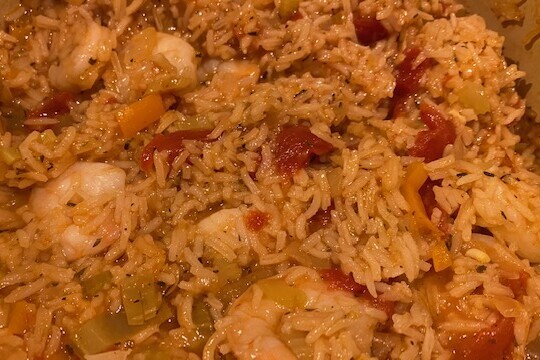 Print Friendly
Seafood Jambalaya
You can also use any seafood or fish that you like for this recipe, don't be afraid to experiment.
2 pounds of jumbo shrimp or any other fish or chicken of your choice in any combination
2 medium onions, peeled and chopped (about 2 cups)
1 medium green pepper, seeded and chopped (about 1 1/2 cup)
3 stalks of celery, trimmed and chopped (about 1 cup)
1 clove garlic, peeled and minced
1 28 ounce can of quality, whole tomatoes, with juice
1 ½ teaspoons of dried thyme
1 teaspoon dried oregano
1 teaspoon freshly ground black pepper
1 teaspoon white pepper
½ teaspoon dried basil
7 cups lobster or fish stock
1 ¾ cups of uncooked white rice
2 or 3 tablespoons of canola oil
chopped green onions for garnish (optional)
Heat the oil in a heavy-bottomed pot or Dutch oven over medium-high heat. Add the onions, bell peppers, celery and garlic and stir to mix; continue cooking for another 10 to 15 minutes. Add the tomatoes with juice and all the seasonings, stir to mix, and cook for 5 to 10 minutes, stirring and chopping up the tomatoes with your spoon as your stir.
Add the stock and simmer, with the pot mostly covered, for 45 minutes to an hour. Add the rice and continue to simmer, stirring occasionally, for 25 to 30 minutes. The rice should be tender and should have absorbed most of the cooking liquid. The jambalaya should be pretty thick, not soupy. Continue to cook, if needed.
Now add the seafood, stir gently, and cook for a few minutes, about 5 to 10 minutes. Continue to gently stir and taste for seasonings.
When the fish is done remove the jambalaya from the heat. Serve in a big bowl or large dinner plate, garnish with chopped green onions and serve immediately.