Kale Salad with Chorizo Vinaigrette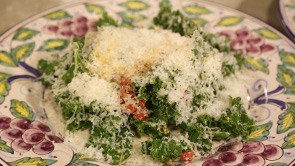 Print Friendly
Chef Kevin Lasko – Vermont Farms Catering
Salad Ingredients
2 bunches of kale, stems removed and thinly sliced
Local honey
Bon Pere Cheese or Aged Manchego
Chorizo vinaigrette (recipe follows below)
Salad Preparation
Combine chorizo vinaigrette and kale, mix well.
Season with salt.
Pile kale on a plate and top with grated cheese and honey.
CHORIZO VINAIGRETTE
Vinaigrette Ingredients
8 oz. chorizo, small dice
1 cup minced shallots, cut on mandoline
3/4 cup extra virgin olive oil
10 cloves garlic
1/2 cup yellow mustard seeds
2 cups sherry vinegar
1 1/2 cups extra virgin olive oil
Vinaigrette Preparation
Blend garlic with 1/2 cup of the first olive oil.
Render chorizo in a rondeux.
Remove chorizo, and leave fat in pan.
Add the remaining first olive oil to the pan, add mustard seeds and toast.
Add shallots and cook until translucent.
Add in garlic puree and cook for a couple minutes.
Add in vinegar and bring to a boil, let simmer for 5 minutes.
Remove from heat add chorizo back in add remaining olive oil.
Chill well.