Keith's Mock Chicken Salad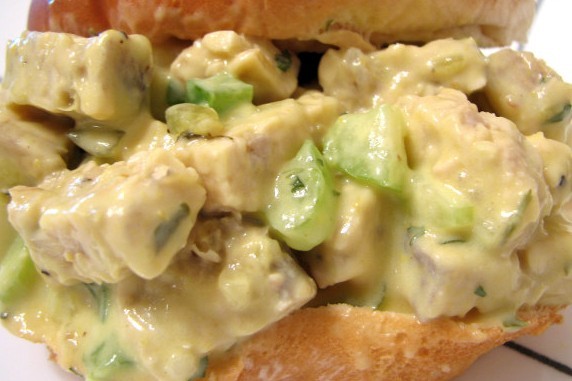 Print Friendly

Keith Swann, Director, New England Cooks Live Demonstration Shows
INGREDIENTS
14 oz. firm or extra-firm tofu, cut into small cubes and patted dry
2 tablespoons peanut oil
1/2 cup mayonnaise
1/2 cup celery, small dice
1/2 cup red onion, small dice
1 teaspoon ground cumin
1 teaspoon dried basil
Handful of fresh parsley, stems removed, rough chop
Salt and pepper, to taste
PREPARATION
Heat peanut oil in a large frying pan to medium high.
Add cubed tofu and allow to brown on all sides. Set aside to cool.
In a large bowl, mix cooled tofu cubes, mayo, celery, red onion, cumin, and basil. Once combined, mix in parsley. Season with salt and pepper to taste.
Refrigerate for at least an hour (preferably longer) to meld flavors.
To plate, serve on a bed of lettuce or as a sandwich filling between two slices of fresh bread.
For a vegan version, try an eggless substitute, such as Veganaise® or Nayonaise®, in place of the mayo. You can also experiment with different crunchy salad vegetables for a variety of colors and flavors and/or add in some sweet notes using dried currants, raisins, or chopped apple. The possibilities are virtually endless depending upon how adventurous you want to get with this satisfying staple for lunch or a light supper.