Lamb Champvallon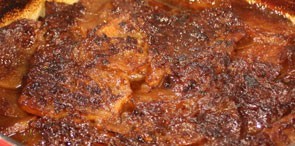 Print Friendly
Jean-Louis Gerin, Executive Chef, New England Culinary Institute
Ingredients
12 lamb shoulder medallions, 1-inch thick
4 onions, julienne
12 Russet potatoes, peeled
Salt and white pepper, to taste
4 garlic cloves, chopped
Rosemary
1 cup butter
1 cup olive oil
8 cups veal or beef stock
8 slices bacon, cut in lardon
Preparation
Preheat oven to 400 degrees F.
Cut lamb shoulder into 1-inch thick medallions.
In sauté skillet, warm 1/2 cup of olive oil, cook bacon to render fat, then add 1/2 cup of butter. Reserve bacon.
Sauté each medallion of lamb. Season and reserve.
In the same sauté pan, add the onion julienne, garlic, and rosemary and sauté until lightly caramelized. Reserve. Deglaze skillet with a cup of beef stock and cook 2 minutes.
Add lamb medallions and bacon, cover with cooked and fresh beef stock, and bake for an hour.
Slice potatoes with mandoline, Do not wash. Toss potatoes with salt and white pepper.
In gratin dish, put a layer of potatoes, top with caramelized onion mix, prebaked lamb medallions, and finish with more potatoes.
Arrange the final layer by starting at outer edge overlapping each potato by half and working in concentric circles toward center.
Pour in all braising liquid and bake in oven at 350 degree F for an hour, or until potatoes are cooked.
Before serving, brown top potato layer.