Lamb Cutlets in a North African Coffee Sauce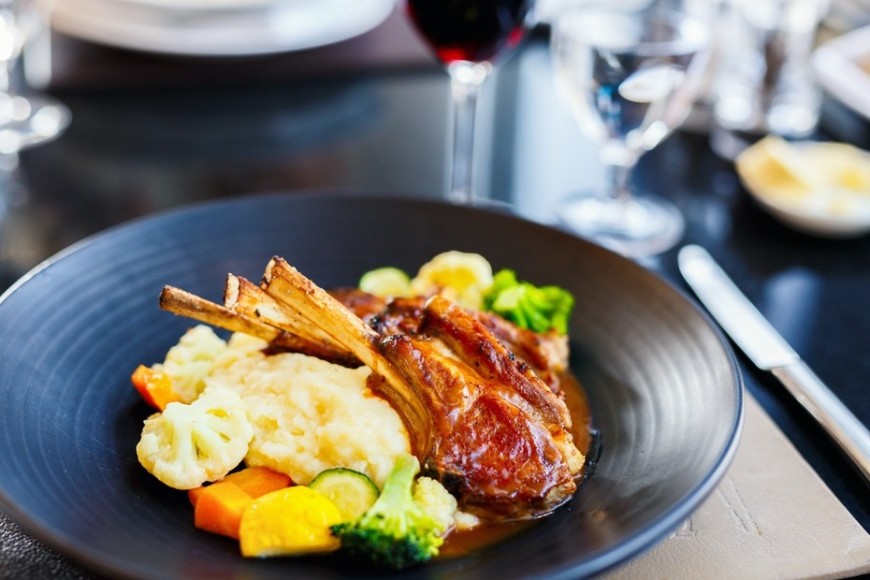 Print Friendly
Chef Tom Bivins, New England Culinary Institute
Ingredients
2 oz. butter
1/3 cup strong coffee
1/3 cup honey
2 tablespoons Worcestershire sauce
1/4 teaspoon mace, grated
1/4 teaspoon cardamom, ground
1/2 teaspoon cinnamon, fresh ground
1/4 teaspoon clove, fresh ground
1/2 teaspoon allspice, fresh ground
1/2 teaspoon salt
1/4 cup orange juice, fresh squeezed
1 oz. clarified butter or oil
16 Medjool dates, pitted
8 lamb cutlets
Salt and fresh ground black pepper
All-purpose flour
Preparation
Melt the butter over low heat. Add the coffee, honey, Worcestershire sauce, spices, and orange juice. Bring to a simmer, stir to combine, cover, and remove from heat.
Melt the clarified butter or oil in a pan until bubbling.
Season the lamb cutlets and dredge lightly in flour. Pat to remove the excess flour. Add the cutlets to the pan and cook until golden brown on both sides.
Return sauce to heat and bring to a simmer. Add the dates and remove from heat.
Serve the dish with couscous, and spoon the sauce over the cutlet with two dates per plate.
Garnish with fresh greens.
Serves 4.