Lamb Shepherd's Pie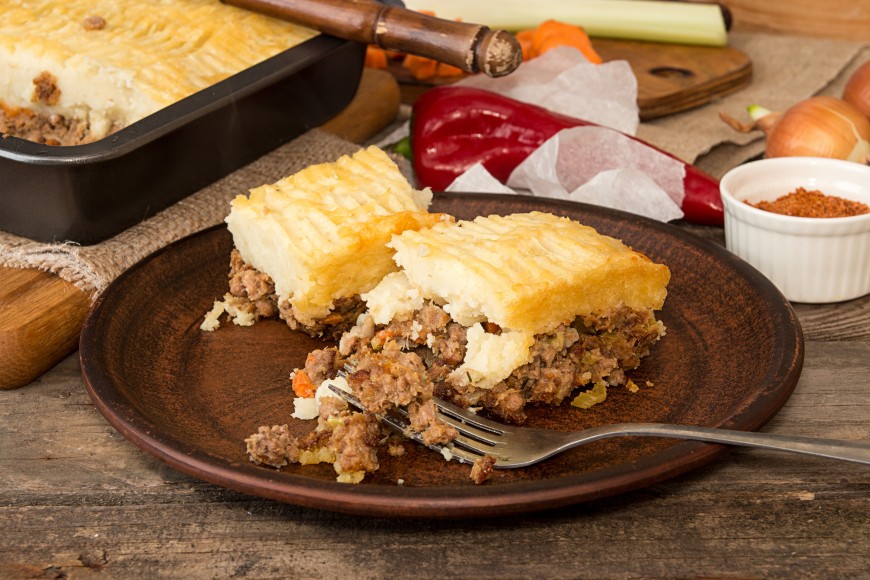 Print Friendly
Chef Jeffrey Lang, The Alchemist, Waterbury, Vermont
Ingredients
1 lb. lean ground lamb
1 small yellow onion, diced (about 1 cup)
1 tablespoon chopped garlic
1 teaspoon chopped rosemary
1 teaspoon chopped thyme
1 teaspoon kosher salt
1/2 teaspoon cracked black pepper
1 tablespoon extra virgin olive oil
1 cup of fresh corn kernels, cut off of the cob
12 oz. porter
1 lb. Yukon gold potatoes, sliced very thin (preferably on a mandolin)
1 teaspoon chopped rosemary
Salt and pepper, to taste
1/2 tablespoon extra virgin olive oil
1/4 cup grated Parmesan cheese
Preparation
In a large sauté pan over medium heat, sweat onion, garlic, and herbs in olive oil.
Add ground lamb and season with salt and pepper. Brown the lamb in the sauté pan, stirring periodically to prevent the onions and garlic from burning.
Add porter and corn and bring to a boil. Reduce heat and simmer for 7-to-10 minutes to reduce liquid and intensify flavors.
Preheat oven to 375 degrees F.
Spoon the lamb stew into rare bit dishes or French onion soup crocks, 1/4-inch from the rim.
Toss potato slices with olive oil, rosemary, salt, and pepper.
Layer the seasoned potatoes on top of the lamb stew and place in the oven for 25 minutes.
Pull out shepherd's pie and top with Parmesan cheese. Place back in the oven under the broiler for 3-to-5 minutes, until the cheese begins to brown.