Lemon Curd Napoleon with Whipped Cream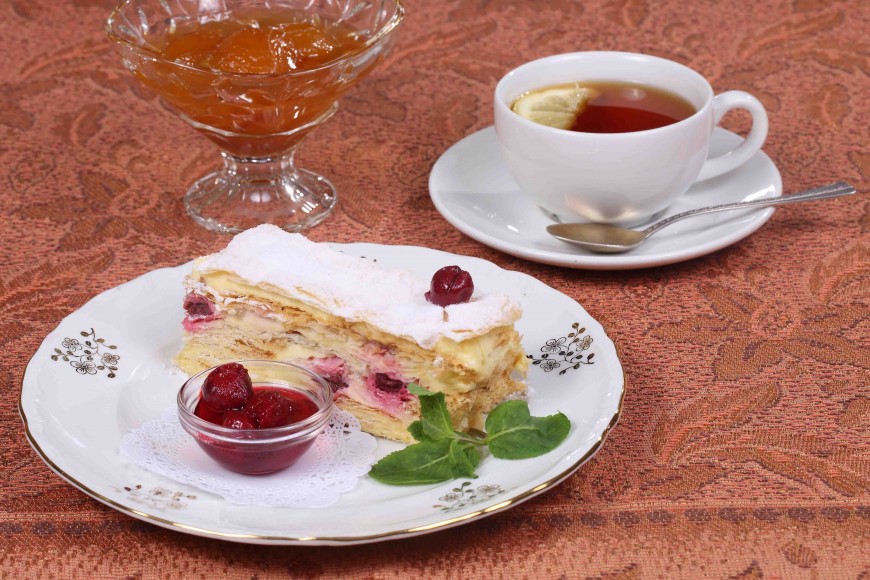 Print Friendly
Chef Lee Duberman, Ariel's Restaurant, Brookfield, Vermont
Lemon Curd Ingredients
8 egg yolks
1 cup granulated sugar
2/3 cup fresh lemon juice
1 stick unsalted butter
1 teaspoon salt
Lemon Curd Preparation
In medium stainless steel bowl, mix yolks, sugar, and lemon juice. Place over pot of simmering water (or use a double boiler). Whisk gently until mixture thickens. While still over simmering water, whisk in butter, a small piece at a time, until fully incorporated. Whisk in salt. Remove from heat.
Scrape into a clean container. Cover top of lemon curd with plastic wrap. Refrigerate until firm.
Napoleon Pastry Squares Ingredients
1 lb. Phyllo pastry (available in supermarkets or coops), defrosted overnight in refrigerator
Approximately 1/2 cup clarified butter, melted and kept warm
1/3 cup granulated sugar.
Pastry Preparation
You need two approximately 11x18-inch cookie sheets for this recipe (also called half sheet pans, available at Costco, or baking supply stores).
Heat oven to 375 degrees F.
Brush bottom of one sheet pan with clarified butter. Lay out one sheet of phyllo onto buttered pan. Butter phyllo sheet and sprinkle with sugar to cover lightly. Lay a second phyllo sheet on top of the first. Repeat with butter and sugar. Lay a third sheet on top. Repeat with butter and sugar.
Cut Phyllo sheets into 3 strips (going across) by 8 (going down). Top phyllo sheets with second sheet pan. Place in hot oven and bake approximately 10 minutes, checking after 5 minutes, and turning pan if necessary.
Remove from oven when Phyllo squares are golden brown. Let cool about 5 minutes. Remove squares with spatula onto wire rack to finish cooling.
To serve napoleons, whip one pint heavy cream. Lay one Napoleon square on a plate. Top with 1/2-inch layer lemon curd. Top that with 1/2-inch layer whipped cream, then another napoleon square. Repeat with lemon curd, whipped cream, and a final napoleon square. Dust top with powdered sugar.
Serve with fresh berries, and a berry puree as a sauce.
Makes 8 napoleons.