Lemon Tartlets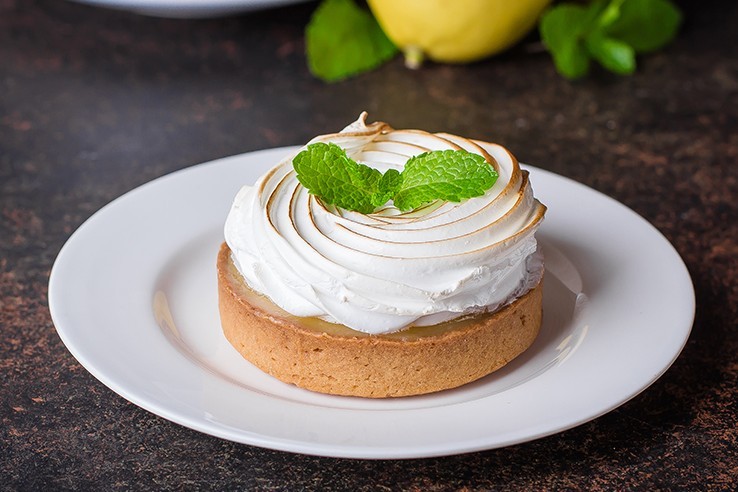 Print Friendly
Almond Crust Ingredients
1 cup all-purpose flour (we like King Arthur flour)
1/3 cup sliced almonds
1/4 cup sugar
1/4 teaspoon kosher salt
6 tablespoons butter, cold and cubed (small cubes of butter mix with the dough quickly with the least amount of melting)
1/2 teaspoon almond extract
3-to-5 tablespoon ice water
Crust Preparation
You'll need eight 4-inch tartlet pans with removable bottoms.
In a food processor fitted with a steel blade, blend the flour, sliced almonds, sugar, and salt until they resemble coarse sand.
Pulse in butter until butter is the size of peas. (Hit mixer a few times to slow down process of mixing. You don't want your dough to turn into liquid).
Add ice water and pulse to blend (add more water, 1 tablespoon at a time, if dough seems dry).
Break dough into 8 even balls, form into disks, and chill on plastic wrap for at least 30 minutes before rolling out.
Preheat the oven to 425 degrees F with rack in lower third. Spray tartlet pans with non-stick spray.
Lightly flour your work surface and roll out the dough.
Place in tartlet pans, trimming any overhang. Press dough against the sides of the pans. Freeze until firm.
Bake in lower third of oven for 20-to-25 minutes, or until golden brown.
Lemon Filling Ingredients
4 large lemons
3 eggs
3 additional egg yolks
1/2 cup sugar
1/2 teaspoon salt
10 tablespoons butter
Pre-baked tartlet shells
1 cup heavy cream, whipped (for garnish)
Fresh mint sprigs (for garnish)
Lemon Filling Preparation
Using a rinder, remove the rind from the lemons, then chop rind finely. Or you can grate the rind off the lemons, being careful not to take any of the pith.
Juice the 4 lemons.
In the top of a double boiler, place the eggs and the egg yolks, and beat well with a whisk.
Add the sugar, lemon juice, rind, and salt. Combine with whisk.
Cook over barely simmering water, whisking constantly until the mixture thickens, about 3-to-5 minutes.
Remove from heat and stir in butter, 2 tablespoons at a time, until it melts and the mixture is well combined. Set aside until it is completely cooled.
Once cooled, pour lemon filling into cooked tart shell and refrigerate for at least 3 hours.
Serve cold, garnished with whipped cream and fresh mint sprigs.