Lobster Risotto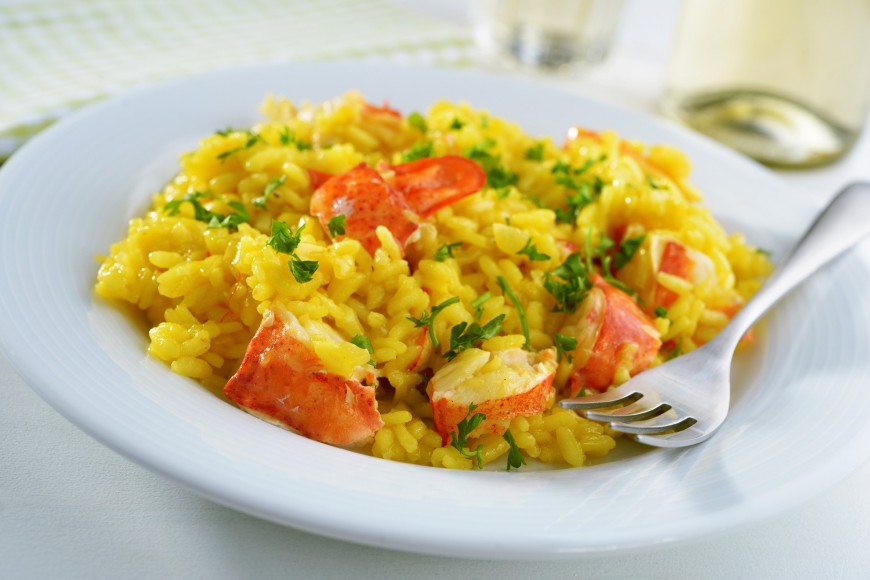 Print Friendly
Chef Mark Molinaro, New England Culinary Institute
Ingredients
2 lobsters
1/4 butter
1 tablespoon olive oil
2 cloves garlic, gently crushed
3 shallots, finely diced
2 cups Arborio rice
1 bay leaf
4 sprigs thyme
Salt, to taste
2 cups dry white wine
6-8 cups lobster stock made from lobster shells (Recipe is under "How To Make Lobster Stock)
Preparation
Bring 2 gallons of "salty-like-the-sea" water to a wicked boil.
Boil lobsters for 7-to-8 minutes and immerse completely in salty ice water just until lobster is chilled (or eat right away before more people come...).
Remove meat, and cut into 2-inch chunks.
Heat lobster stock to boil, and shut off heat.
In large rondeau, heat butter and olive oil at medium heat, and sweat garlic and shallots until translucent (no color).
Add Arborio rice, and stir to coat. Add bay leaf, thyme, and salt. Add wine, and let cook until dry.
Add stock slowly, in batches, until done (al dente), stirring occasionally.
Enjoy immediately with a nice glass of your favorite white wine...
Serves 4.