Maine Crabcakes with Corn and Leek Ragout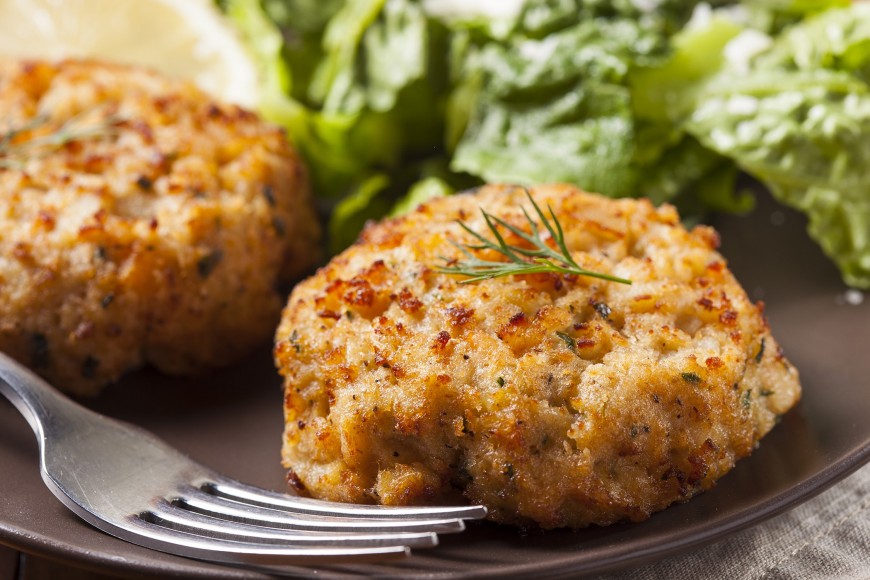 Print Friendly
Michael's on the Hill Restaurant, Waterbury, Vermont
Ingredients
1 pound Maine crabmeat, picked through for shells
1 tablespoon parsley, washed and chopped
1 pinch Old Bay seasoning
1 egg, extra large, whisked lightly
2 tablespoons mayonnaise
1/2 tablespoon Dijon mustard
2 slices white bread, no crust
Freshly ground black pepper, to taste
Salt, to taste
3 oz. Panko bread crumbs
4 tablespoons unsalted butter
Preparation
Combine all crab cake ingredients gently, trying to keep the crab in large pieces.
Mold crab mixture into 6 equal patties.
Roll patties in the panko breadcrumbs.
Heat a skillet over medium heat, add butter, and sauté crab cakes until golden brown on each side.
Ragout Ingredients
4 fresh corn on the cob
2 cups heavy cream
2 leeks, mostly white, well washed, and diced
Fresh ground black pepper, to taste
Salt, to taste
1 tablespoon chives, chopped
Ragout Preparation
Roast entire corn husks in the oven in their jackets for 45 minutes at 350 degrees F. Cool corn, then remove husks and silk. Cut the kernels off the cobs, and separate the kernels.
In a medium sauce pot, add the cream and the bare corn husks, and cook over medium heat, until the cream reduces by half. Remove the husks, and season with salt and pepper.
Boil leeks for 2 minutes in salted water, then strain and add the leeks and corn kernels to the cream mixture.
Cook the mixture over medium heat until it reaches a sauce consistency, or coats the back of a spoon. Keep warm until use, or reheat as needed.