Maltagliati con Fagioli Head Chef Sara chase at Pearl Street Pizza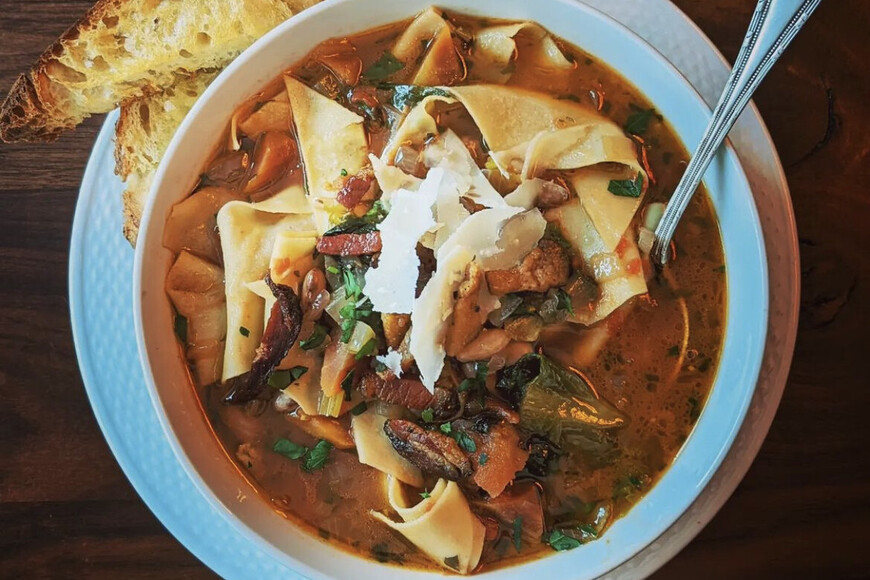 Print Friendly
Maltagliati con Fagioli
Ingredients
1/2 stick butter
4 tablespoons Extra Virgin Olive Oil
4 oz. Pancetta, diced
1 cup sweet onion, small dice
1/2 cup carrot, minced
2 tablespoons celery, minced
4 cloves garlic, smashed
1 sprig Rosemary
2 sprigs thyme, picked
1/2 head escarole, chopped
1 rind of Parmesan
2 Tablespoons Pork fat
4 cups chicken stock, prepared
1 cup crushed tomatoes in juice
1 bunch parsley
1 cup cranberry or other white bean, soaked overnight
6 ounces Maltagliati, fresh pasta, or cooked dry pasta, toothy al dente cooked. (Half way cooked)
Salt and pepper to taste.
Directions
Melt butter and olive oil in thick bottomed pot on medium heat, and add pancetta.
Render for four minutes until soft and slightly crispy.
Add onion, carrot, celery, and half the garlic, cooking for four minutes, stirring occasionally.
Add rosemary, thyme and Parmesan rind, cook for another 4 minutes or until garlic is starting to turn golden.
Add wine, and reduce by half.
Add chicken stock and beans, simmer on low 1 hour, or until beans are tender. Remove from heat and rest 10 minutes.
Meanwhile, in another thick bottom pot on medium heat, add pork fat, remaining garlic, and escarole, sauté for 3 minutes.
Add tomatoes, bean mixture, and half cooked pasta, and simmer until pasta is fully cooked.
Serve immediately with a generous portion of grated Parmesiano Reggiano on top.