Maple Crème Brulée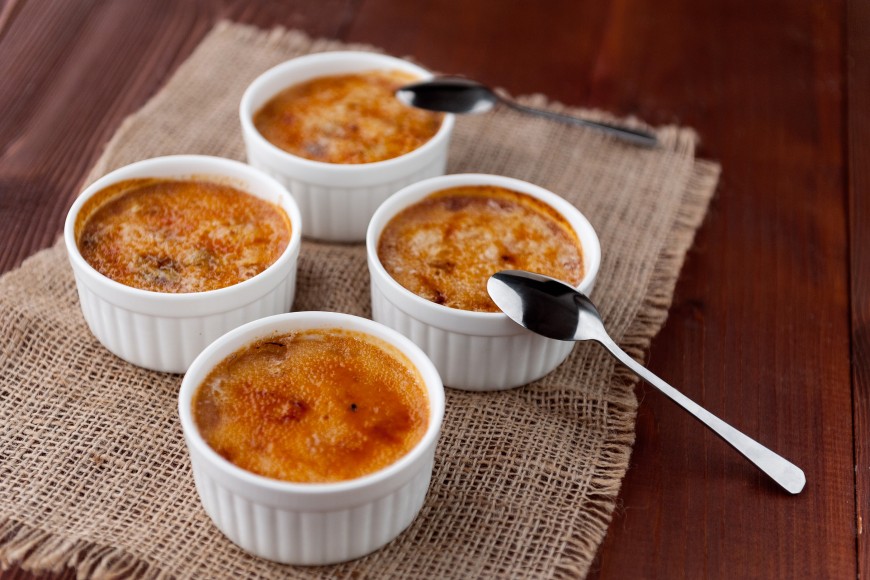 Print Friendly
Michael's on the Hill Restaurant, Waterbury, Vermont
Ingredients
1 cup heavy cream
1 cup whole milk
1/2 cup pure maple syrup
11 egg yolks
1/4 vanilla bean
Preparation
Preheat oven to 325 degrees F.
Place cream, milk, syrup, and split and scraped vanilla bean into a heavy-bottomed sauce pot. Heat over medium heat until scalded. Remove from heat.
Whisk a small amount of milk mixture into the eggs quickly to temper, then pour egg mixture into the milk mixture, rapidly whisking. Strain mixture to remove any impurities and vanilla bean.
Bake in ramekins in water bath for approximately 45 minutes+ or until the custard slightly jiggles, but is set.
Cool on a rack to room temperature, then chill, covered with plastic wrap.
To serve, sprinkle with granulated sugar (1 1/2 tablespoons). Carefully and evenly brown with a blow torch or under a hot broiler until brown.
Serves 6.