Mapled Nut Company Butter Tart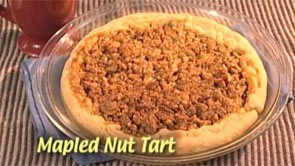 Print Friendly
Mapled Nut Company, Montgomery, Vermont
Ingredients
4 oz. bag (1 cup) Mapled Nut Company Maple Sugar Coated Pecans or Walnuts, coarsely chopped
1/3 cup melted butter
1 egg, beaten
1/2 cup pure Vermont maple syrup
2 tablespoons milk
1 teaspoon vanilla
9-inch unbaked tart shell or pie shell
Preparation
Preheat oven to 350 degrees F.
Combine butter, egg, milk, vanilla, and maple syrup.
Add chopped nuts and gently pour into tart shell. Garnish with extra nuts if desired.
Bake at 350 degrees F for 28-to-30 minutes, or until tart is puffed and bubbly and crust is starting to brown.
Cool 20 minutes before removing from tart pan.
Can be served warm or at room temperature.
Add a dollop of whipped cream for an extra special treat.
Serves 6-8.