Mom's Fresh Apple Cake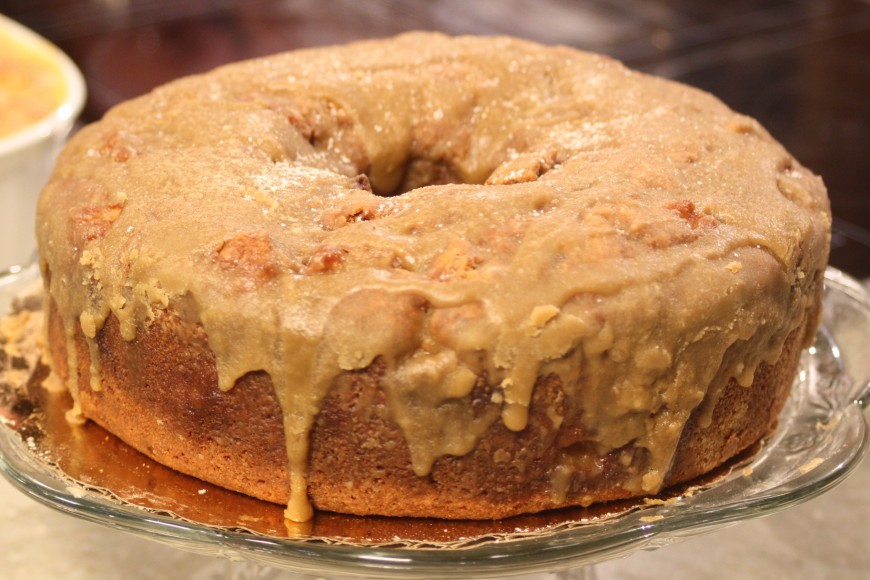 Print Friendly
Mary Alice Proffitt – Down Home Kitchen
Ingredients
1 teaspoon cinnamon
3 cups flour
1 teaspoon salt
1 teaspoon baking soda
1 teaspoon baking powder
2 cups sugar
1/2 cup vegetable oil
1/2 cup melted butter
3 eggs
4 cups peeled, cored, chopped apples
1 cup chopped pecans
1+ teaspoon vanilla
3/4 to 1 cup sour cream
Preparation
Combine flour, salt, baking soda, baking powder, and sugar.
Add oil and eggs and beat to combine.
Stir in apples, pecans, vanilla, and sour cream. Batter will be stiff.
Put batter in an ungreased 10-inch tube pan. Bake 1 hour at 350 degrees F.
Cool in pan 20 minutes before turning out onto wire rack to cool completely.
GLAZE
Ingredients
1/4 cup butter
1 cup brown sugar
Pinch salt
3 tablespoons whipping cream
1/2 teaspoon vanilla
Preparation
In a saucepan, melt butter.
Add sugar, salt, and cream, stirring to combine. Cook 2 minutes.
Add vanilla.
Yummy! Pour over cooled cake. Oh yeah.