Mushroom Chowder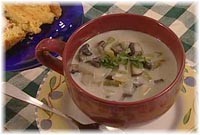 Print Friendly
Ingredients
3 cups (1 lb.) diced potatoes
8 cups (64 oz.) chicken stock
4 tablespoons (1/2 stick, 2 oz.) butter
2 cups diced onions
1 1/2 cups diced celery
1/2 cup King Arthur Flour
2 pounds (6-to-8 cups) sliced mushrooms (Use a combination of domestic and wild mushrooms - portabello mushrooms will turn the chowder a dark color unless you remove the gills before slicing)
1/2 teaspoon salt
1/2 teaspoon pepper
1 teaspoon thyme
1 cup (8 oz.) half-and-half or cream
1 tablespoon freshly snipped dill
Preparation
In large soup pot, cook the diced potatoes in the chicken stock until tender.
Strain the potatoes from the stock and reserve both potatoes and stock.
Melt butter in pot. Add onions and celery - cook until translucent.
Add flour and cook - stirring constantly until flour turns golden.
Add the reserved chicken stock, a little at a time, whisking until smooth.
Stir in mushrooms, salt, pepper, and thyme. Simmer for 45 minutes.
Add the potatoes and half-and-half or cream. Bring chowder back to a simmer.
Ladle into bowls and sprinkle with the freshly snipped dill.