Nasi Goreng (Indonesian Spin on Fried Rice)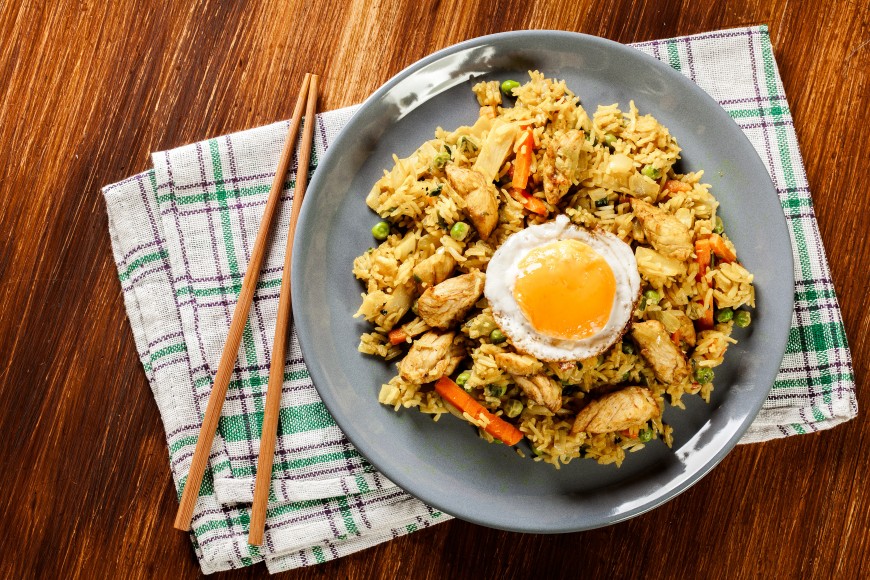 Print Friendly
Jessie Price, Eating Well Magazine
Ingredients
3 large eggs, beaten
4 small shallots, peeled
3 cloves garlic, peeled
2 tablespoons whole almonds
2 small chile peppers, seeded and diced
2 tablespoons peanut or canola oil, divided
2 cups finely chopped or shredded vegetables, such as yellow bell pepper, cabbage, and broccoli
2 tablespoons reduced-sodium soy sauce
2 tablespoons kecap manis (see ingredient note)
4 cups cooked and cooled brown rice
2 scallions, thinly sliced
1 medium tomato, sliced
1 small cucumber, sliced
Preparation
Generously coat a wok or large skillet with cooking spray and heat over medium-high heat.
Pour in eggs, reduce heat to medium-low, and cook, lifting the edges so uncooked egg flows underneath, until mostly set, 1-to-2 minutes.
Slide out of the pan onto a clean cutting board. When cool enough to handle, cut into thin strips.
Place shallots, garlic, almonds, and chilies in a food processor. Process to a thick paste.
Heat 1 tablespoon oil in the wok (or pan) over medium-high heat. Add the paste, and cook until fragrant, about 2 minutes. Transfer to a small bowl.
Heat the remaining 1 tablespoon oil over medium-high heat. Add vegetables and cook, stirring, until crisp-tender, about 2 minutes.
Add the shallot paste, soy sauce, kecap manis, and rice and stir until combined and heated through, about 2 minutes more. Transfer the Nasi Goreng to a platter. Top with the strips of egg and scallions. Arrange tomato and cucumber slices around the edges.
Serves 6.
Ingredient note: To substitute for kecap manis, whisk 1 tablespoon molasses with 1 tablespoon reduced-sodium soy sauce.
Per serving: 292 calories; 10 g fat (2 g sat, 5 g mono); 106 mg cholesterol; 38 g carbohydrate; 8 g protein; 4 g fiber; 356 mg sodium; 368 mg potassium. Nutrition bonus: Vitamin C (60% daily value), Selenium (26% dv), Magnesium (19% dv), Vitamin A (15% dv). 2 1/2 Carbohydrate Servings Exchanges: 2 starch, 1 vegetable, 1/2 medium-fat meat, 1 fat.