Night Before Christmas Chocolate Bread Pudding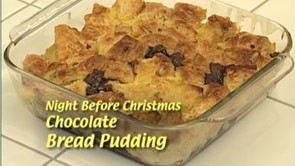 Print Friendly
Gloria Gaffney, Georgetown, Maine, Holiday Recipe Contest Winner, Dessert Category
Ingredients
1 cup Shaw's heavy cream and 1 cup Shaw's whole milk OR 2 cups Shaw's half and half
6 Shaw's egg yolks
1/3 cup Shaw's granulated sugar
1 whole, split vanilla bean OR 1 teaspoon Shaw's vanilla extract
3 whole ready-to-eat plain croissants, cut into 1-inch pieces
5 oz. bittersweet chocolate, cut into small (about 1/4-inch) pieces
Preparation
Add cream and milk in a heavy small saucepan; simmer with vanilla bean split down the center.
In separate bowl, add egg yolks and sugar, and whisk until combined and smooth.
Slowly add hot milk/cream mixture to the egg/sugar mixture (if using vanilla extract, add now).
Return mixture to saucepan and stir continuously over low heat until just thickened slightly. Do not let the mixture boil. Remove from heat.
In a 10-inch pan, add the cut up croissants and the chopped chocolate. Pour the hot milk/cream mixture to just cover the croissants and chocolate.
Bake 35-to-40 minutes at 325 degrees F in water bath (water about 1/3 of the way up the pan).
Serve warm with a nice garnish, such as a sprig of mint.
This recipe can also be made in individual ramekins. Just follow directions and divide between 8 ramekins. Bake in water bath.
Thanks to Gloria Gaffney for this delicious holiday recipe. Gloria has won a Keurig Single Cup Coffee Brewer and a one year supply of K-cups from Green Mountain Coffee Roasters. Congratulations!