Paella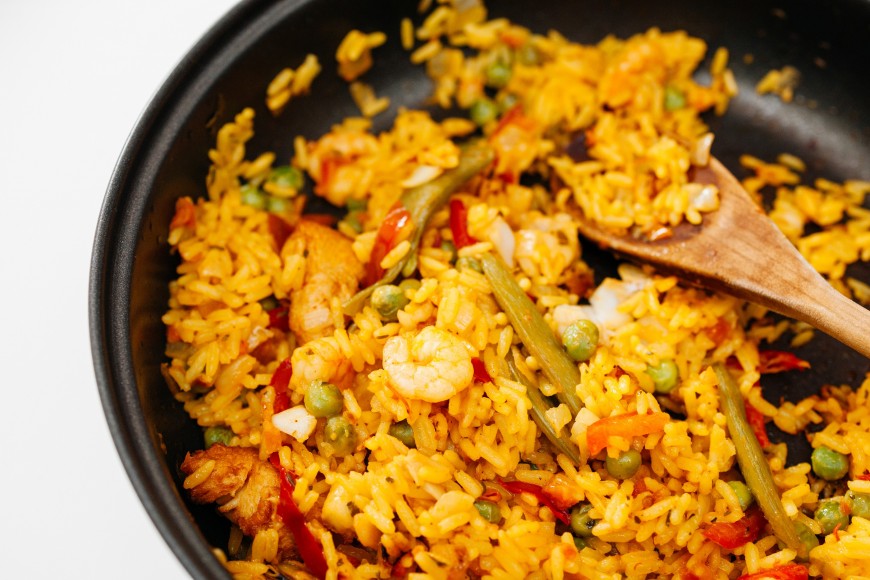 Print Friendly
Ingredients
4 oz. packaged capellini
1 each red and green pepper, julienne
1 medium yellow onion
1 medium tomato, sliced
1/2 teaspoon saffron
2 oz. scallops and mussels (about 4 per serving)
2 oz. calamari (squid)
2 oz. smoked chicken or duck
Extra virgin olive oil
Preparation
Cook capellini according to package directions (4-5 minutes), and drain.
Sauté capellini with a little extra virgin olive oil until golden brown.
Remove capellini, but using same sauté pan, add a bit more olive oil. Then add onions, peppers, saffron, tomato slices, and smoked chicken, and cook until just tender.
In another sauté pan, put scallops, calamari, and mussels. Cook until mussels open, scallops are opaque in color, and calamari is curled.
Put the browned capellini on the plate. Add the sautéed vegetables and the seafood.
Top with a few extra chopped tomatoes.
Serves 4.