Pan Roasted Venison with Ras el Hanout, Parsnip Puree, Lingonberry Gastrique, Fingerling Potatoes, and Thyme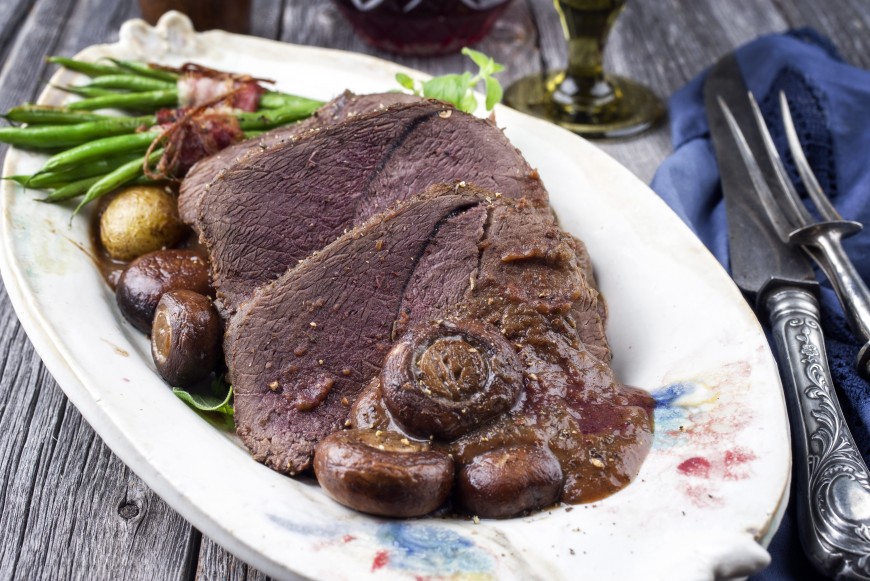 Print Friendly
Ingredients
8 3-oz. venison tournedos (small filets cut from the tenderloin or Denver leg)
Kosher salt
Ras el Hanout spice blend (recipe follows)
1/2 tablespoons ground juniper berries
2 sprigs fresh thyme
1 clove fresh garlic
1 tablespoon butter
Venison Preparation
Heat a large non-stick sauté pan over medium heat. Season the tournedos with the salt and Ras el Hanout.
Add the olive oil to the sauté pan, and swirl until you see a little smoke rising from the pan. Add the venison and sear on one side for around 3 minutes.
Add the garlic clove, sprigs of thyme, and butter. Flip the tournedos over and sear for another 3-to-4 minutes, basting with the melted butter.
Remove the meat from the pan and let rest.
Ras el Hanout Ingredients
Equal parts of: cumin, cardamom, cinnamon, clove, coriander, cayenne pepper, allspice, black pepper, lavender, ginger, nutmeg, and mace
Ras el Hanout Preparation
Grind all spices in a spice grinder. Note: Ras el Hanout in Moroccan means "head of the shop," referring to the lucrative spice shops around the country. Each shop would have its own version of this spice blend.
Parsnip Puree Ingredients
5 large parsnips, peeled and rough chopped
2 potatoes, peeled and rough chopped
3 shallots, rough chopped
3 tablespoons butter
Parsnip Puree Preparation
Place all puree ingredients, except butter, in a pot with water. Bring to a boil and cook until all vegetables are extremely soft. Drain, and reserve cooking liquid.
Puree in a blender using just enough cooking liquid to create a vortex.
Add the butter and season with salt and pepper.
Lingonberry Gastrique Ingredients
1/2 cup sugar
1/2 cup red wine vinegar
1 cups Lingonberry (fresh or preserved)
2 cups chicken stock
Lingonberry Gastrique Preparation
In a medium-size sauce pot, melt the sugar until liquid, and add the vinegar and lingonberries.
Reduce by half and add the chicken stock. Reduce by half.
Season the sauce with salt and pepper and puree in a blender until smooth. Pass through a fine mesh sieve, and keep warm.
Fingerling Potatoes Ingredients
12 "thumb" size fingerling potatoes
Olive oil
Salt and pepper
Fingerling Potatoes Preparation
Boil the potatoes until fork tender. Shock in ice water until cold.
Cut the potatoes in half lengthwise and season with salt and pepper.
Heat a large nonstick pan on medium heat and add the potatoes, cut side down.
Cook until golden brown. Reserve warm.
To Serve
Place a spoonful of the parsnip puree in the center of a large warm plate. Top with five halves of caramelized fingerling potatoes. Slice the venison tournedos in half and place atop the potatoes. Spoon the gastrique around the plate, and garnish with some fresh thyme flowers.
Serves 4.