Pan-Seared Sea Scallops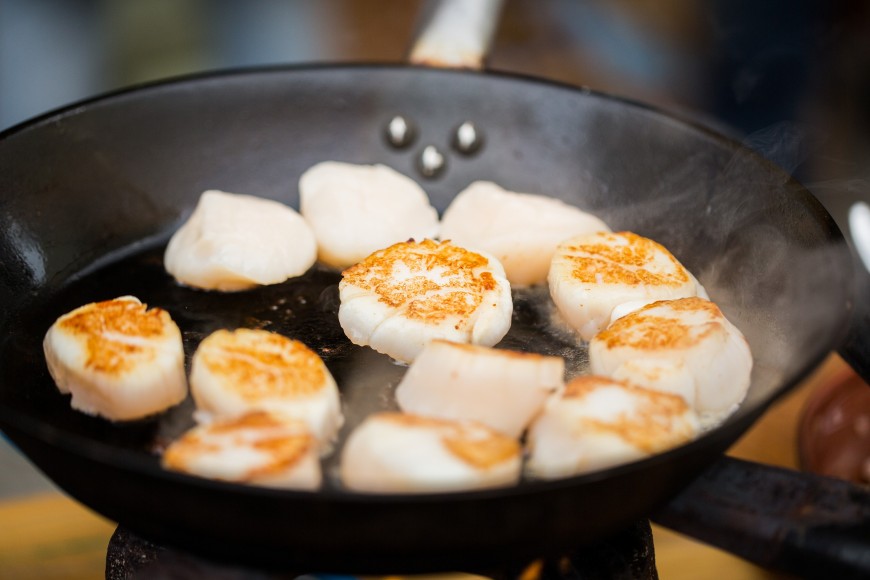 Print Friendly
Chef Rich Lechner, Sean & Nora's, Barre, Vermont
Ingredients
6 20/30 count dry-pack sea scallops
2 tablespoons olive oil
1 tablespoon unsalted butter
1 tablespoon chopped garlic
2 tablespoons fresh chopped thyme, oregano, rosemary
1/4 cup caramelized onions
1/4 cup sautéed mushrooms
1/4 cup diced tomato
1/4 cup chopped zucchini
1/4 cup Madeira wine
3 tablespoons heavy cream
6 oz. fresh pasta, cut to pappardelle
Preparation
In a small sauté pan, caramelize onions and mushrooms. Set aside.
Season scallops and sauté in olive oil and butter.
Add garlic, fresh herbs, and all the vegetables. Cook for about 2 minutes.
Add Madeira wine and flambé. When flame dissipates, add cream.
Reduce to simmer and cover for 3-to-4 minutes.
Drop pasta into boiling salted water for 2-to-3 minutes.
Drain pasta and add to scallops and vegetables.
Season with salt and pepper, toss together, and simmer 1 minute.
Plate up and enjoy!
Serves 2.