Pan-Seared Tuna with Roasted Small Baby Potatoes and Salsa Verde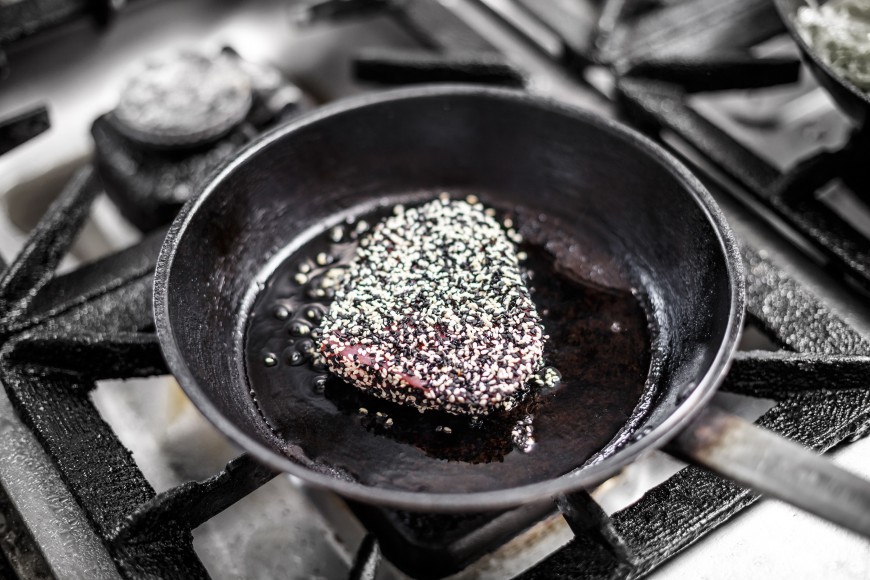 Print Friendly
Chef David Nielson, The Black Door Bar & Bistro, Montpelier, Vermont
Ingredients
Two 5-6 oz. tuna steaks
1 teaspoon cooking oil
Salt, to taste
Cracked black pepper, to taste
12 small baby potatoes
2 tablespoons olive oil
Salt, to taste
Pepper, to taste
Garlic, chopped
Salsa Verde (recipe follows)
Preparation
Heat skillet to a medium high heat. Add 1 teaspoon of cooking oil.
Season tuna with salt and cracked black pepper. Place tuna in skillet and, depending on the size and cut of the tuna, cook for about 30 seconds on each side. This will give you a rare piece of tuna, which is the way I would recommend eating it.
Cut potatoes in half and place in mixing bowl. Add olive oil, salt, pepper, and chopped garlic, to taste. Mix well to ensure that all the potatoes are coated with the seasoned oil.
Place on a cookie sheet and bake in the oven at 350 degrees F for 25-to-30 minutes, or until soft.
Salsa Verde Ingredients
1 shallots
1/4 cup capers
1/2 bunch of parsley
1-3 anchovies
2 tsp Dijon mustard
1 tablespoon olive oil
Lemon juice
Salsa Verde Preparation
Mix all ingredients in a food processor, or cut together with a knife, until all ingredients are mixed well. Make sure not to over mix. You want this salsa to be chunky.
To plate dish, place tuna over roasted baby potatoes tossed with arugula greens and sliced shallots.
Serve with the Salsa Verde.