Panzanella Salad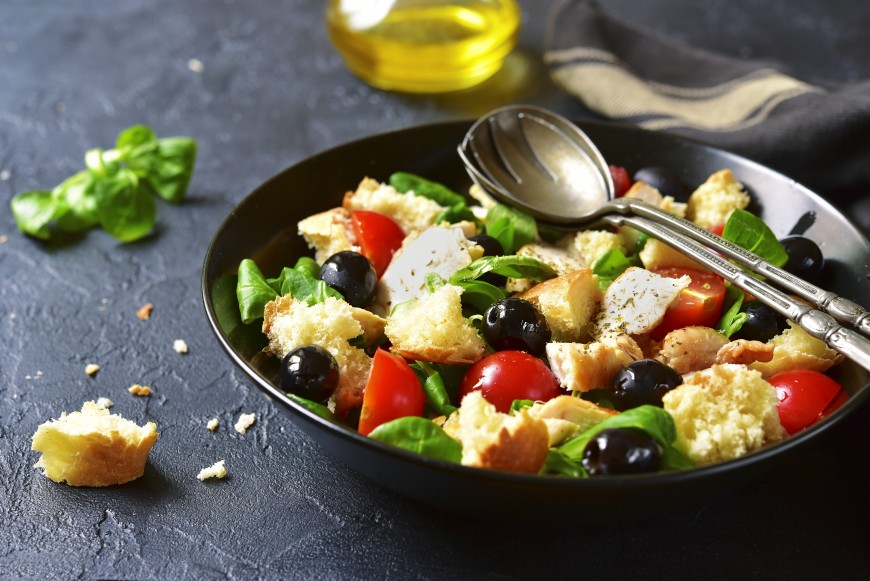 Print Friendly
Chef Will Bohmann, New England Culinary Institute
Ingredients
3 cups diced tomatoes - seeds and all, use a variety like grape, cherry, brandy wine
1 red onion, small dice
1 garlic clove, germ removed and minced
1 yellow, red, or green pepper, medium dice
1 tablespoon capers
1/2 cup basil, washed and chopped
2 cups focaccia bread, medium diced and lightly toasted (almost any crusty bread will do!)
1/2 cup fresh grated parmesan cheese (use the good stuff)
2 tablespoons red wine vinegar
1/4 cup extra virgin olive oil
Salt, to taste
Fresh cracked black pepper, to taste
Preparation
In a large bowl, combine all the ingredients and toss well. You may add more oil if you desire.
Place directly on a plate or bowl and garnish with a fresh basil leaf and/or shaved parmesan.
This is a classic Tuscan bread salad that has all the favorite summer ingredients. One of my favorite summer time salads that can be eaten as a first course, main course, or substituted as a vegetable and starch to complement a nice piece of grilled tuna or salmon.