Pappardelle with Shrimp & Zucchini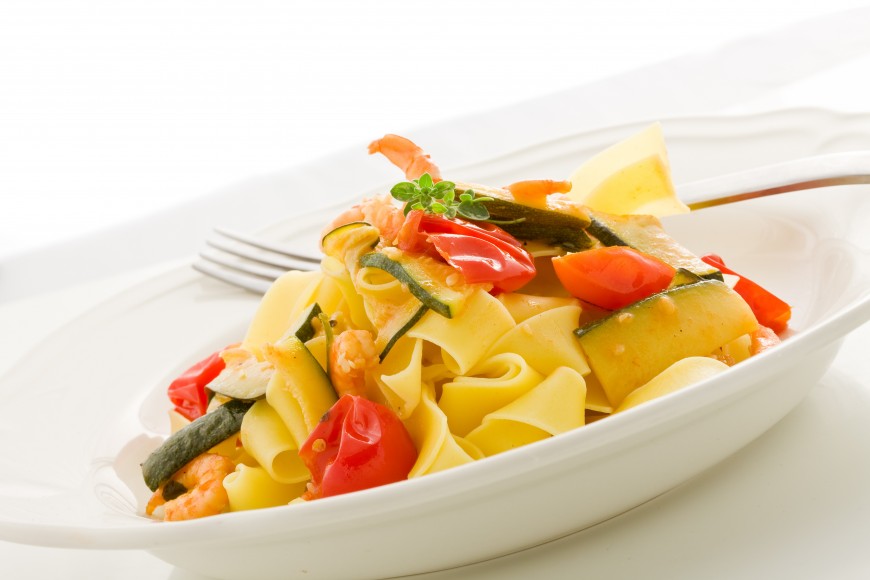 Print Friendly
Jurgen Spagolla, Executive Chef, Trapp Family Lodge
Ingredients
2 medium zucchini
6 tablespoons extra virgin olive oil
3/4 lb. large raw shrimp, deveined, rinsed, and patted dry
2 fresh garlic cloves, fine diced
1/2 lb. dry Papardelle pasta
1/4 teaspoon crushed red chili flakes
2 teaspoons fresh lemon juice
15 fresh Basil leaves, julienne
2 1/2 oz. Prosciutto, thinly sliced and cut into 1/2-inch strips
Preparation
Put large pot of salted water on to boil.
Slice the zucchini into wide strips with peeler.
In a large skillet over high heat, sauté the shrimp, seasoned with salt and pepper, in 1/2 tablespoons oil until firm and pink, 2-to-3 minutes. Transfer the shrimp to a plate.
Lower the heat to medium, add the remaining 4 1/2 tablespoons oil and the garlic, and cook, swilling the pan, until the garlic browns and the oil fragrant, about 2-to-3 minutes.
Add the chili flakes, and pile in the zucchini strips. Season with salt and pepper and sauté until the strips begin to soften (but don't let them turn mushy), 1-to-2 minutes.
Boil pasta until tender. Drain and add to the shrimp, along with the zucchini and lemon juice. Toss gentle. Stir in the basil and the Prosciutto and serve immediately.
Serves 2-3.