Parmesan Twists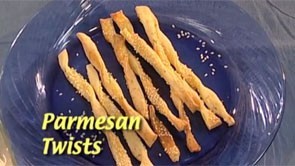 Print Friendly
Ingredients
1/2 cup grated Parmesan cheese
1/2 cup sour cream
1/4 cup butter, softened
1 cup King Arthur flour
1/4 teaspoon dried thyme, crushed
1/4 teaspoon dried oregano, crushed
1/4 teaspoon dried basil, crushed
1 egg yolk beaten with 1 tablespoon water
2 tablespoons sesame or poppy seeds
Preparation
Preheat oven to 350 degrees F. Grease 2 baking sheets.
In a medium bowl, beat together the Parmesan cheese and butter, until fluffy. Mix in the sour cream.
In a smaller bowl, mix the flour, thyme, oregano, and basil.
Beat the flour mixture into the cheese mixture.
Knead the dough lightly, and divide in half.
Flour a cutting board and roll out the dough into 12x6-inch rectangles. Cut each rectangle into 24 6x1/2-inch strips.
Brush the strips with the egg/water mixture. Sprinkle with sesame or poppy seeds.
Separate each strip. Hold each strip by the ends, and gently twist the bread strip 2-or-3 times. Place on prepared baking sheet.
Bake for 10-to-12 minutes, or until golden.
Remove twists from oven and let cool.