Pasta Al Boscaiola - Woodman's Pasta with Mushroom Sauce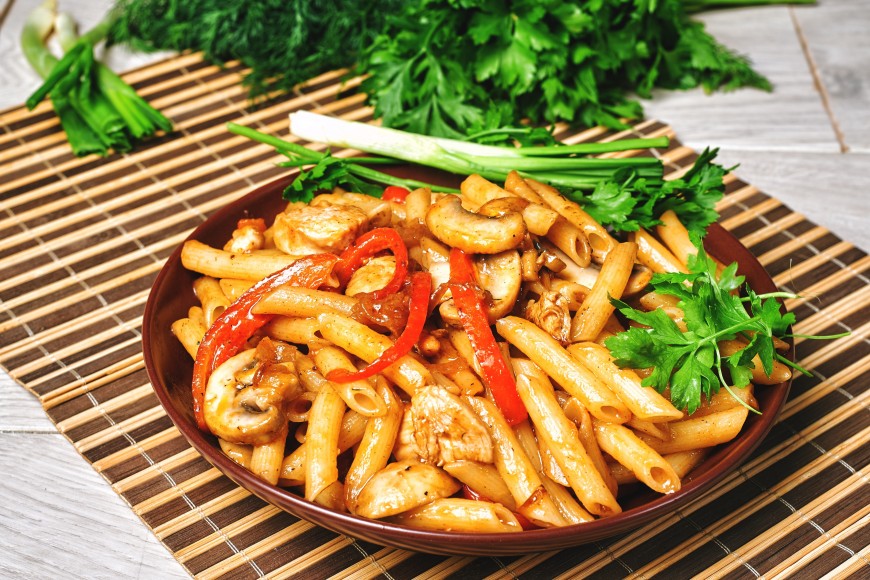 Print Friendly
Author Lisa Caponigri
Ingredients
6 oz. dried porcini mushrooms
2 tablespoons unsalted butter
1/4 cup extra virgin olive oil
2 cloves garlic, finely chopped
1 large carrot, finely chopped
1 stalk celery, finely chopped
8 oz. button mushrooms, sliced
8 oz. cremini mushrooms, sliced
2 pounds penne or other long tubular pasta
1 cup Lisa's classic tomato sauce
6 tablespoons heavy cream or panna da cucina
6 oz. Parmigiano-Reggiano, grated
Preparation
In a medium bowl, soak the porcini in 1 cup warm water for 30 minutes.
In a large skillet, melt the butter with the olive oil over medium-high heat. Add the garlic, carrot, and celery and cook, stirring until softened.
Drain the porcini mushrooms, reserving the soaking water. Rinse the porcini and add them to the skillet with the other mushrooms. Cook, stirring, until they lose their liquid, about 5 minutes.
Bring a large pot of salted water to a boil. Add the pasta and cook until al dente (if using penne, cook for 7 minutes).
Meanwhile, pour the reserved porcini soaking water through a fine mesh strainer to remove any sand. Slowly add the porcini water and then the tomato sauce to the mushroom mixture.
A dish typical of the Chianti region of Tuscany, this pasta features a variety of mushrooms paired with a thick, velvety tomato and cream sauce.