Pauly's Grilled Vegetable Lasagna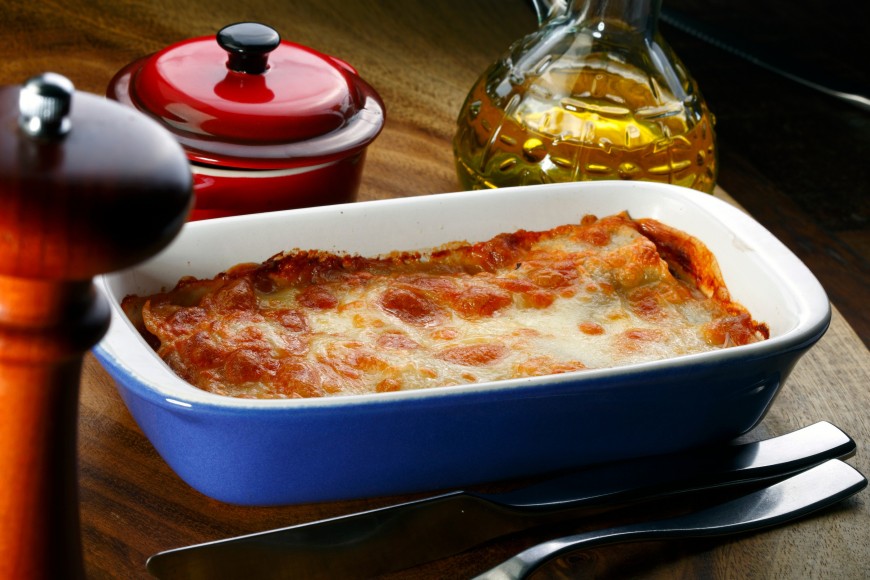 Print Friendly
Chef Paul Lucas, Jessie's, Hanover, New Hampshire
Alfredo Sauce Ingredients
1 1/2 cup heavy cream
1/2 cup water
1/2 cup Parmesan cheese, shredded
1/8 cup Romano
1 teaspoon kosher salt
1/4 teaspoon white pepper
1/4 cup butter
1/4 cup flour
Alfredo Sauce Preparation
Mix the butter and flour together over low heat and set aside to cool to room temperature.
Mix the heavy cream, water, kosher salt, and white pepper in a sauce pan over medium heat. Just before it begins to boil, slowly add the butter/flour mixture. Mix continuously to avoid lumps.
Once mixed, add the Parmesan and Romano cheese. Cook over medium heat for 10-to-15 minutes.
Grilled Vegetable Ingredients
1 medium summer squash
3/4 cup Alfredo sauce (recipe above), divided
1 medium zucchini squash
1/4 cup olive oil
1 tablespoon kosher salt
1 medium green pepper
1 medium red pepper
1/2 tablespoon coarse black pepper
1/2 cup fresh baby spinach
1 oz. rated Romano cheese
1/2 cup fresh broccoli
1/4 cup shredded Parmesan cheese
1/2 cup shredded mozzarella cheese
Preparation
Cook lasagna noodles.
Mix together the olive oil, kosher salt, and coarse black pepper. Add the green pepper, red pepper, summer squash, and zucchini. Once evenly coated, grill the vegetables until tender. Set aside.
Mix the mozzarella, Parmesan, and Romano cheeses together. Set aside.
Boil water to blanche the fresh broccoli. Once blanched, immediately cool in cold ice water.
Assembly
In a 8x8-inch shallow baking pan, lightly pour a portion of the Alfredo Sauce, and cover with a layer of the cooked lasagna noodles.
Layer next with the fresh baby spinach and the blanched broccoli.
Next, layer with 1/3 of the mozzarella, Parmesan, and Romano mixture.
Add another layer of lasagna noodles.
Next layer with the grilled red and green peppers, and another 1/3 of the cheese mixture.
Add a final layer of lasagna noodles and add the grilled summer squash and grilled zucchini.
Finish off the remaining 1/3 of the cheese mixture, and cover with the remaining Alfredo Sauce. Cover with foil and bake at 350 degrees F for 20-to-30 minutes, or until an internal temperature of 180 degrees F is reached.