Pears Campos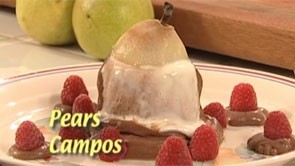 Print Friendly
Ingredients
6 large pears, peeled with stems on
2 cups water
1/2 cup sugar
1 cinnamon stick
1-inch fresh ginger, peeled
1 cup Grand Marnier
1 tablespoon Grand Marnier
3/4 cup heavy cream
1 tablespoon confectioners' sugar
1 cup plain yogurt
1/2 pound chocolate morsels
Preparation
Core the pears from the bottom, keeping the stems in place and leaving walls about 1/2 inch thick. Save the cores.
Place the pears upright in a large saucepan with the water, sugar, cinnamon stick, ginger, and 1/2 cup of the Grand Marnier.
Cook the pears for 3-to-15 minutes until tender, but not mushy. Cooking time depends on type of pear and how ripe it is.
Cool the pears, and add another 1/2 cup Grand Marnier to the liquid.
Let stand in the refrigerator overnight.
Before serving, whip together 1/2 cup heavy cream, confectioners' sugar, and 1 tablespoon Grand Marnier in an electric mixer until stiff.
On slow speed, beat in 1/2 cup yogurt.
Fill the cavities of the pears with the semi-stiff mixture.
Trim a 1/2-inch thick piece from the top of each reserved pear core and put in the pear cavities.
Melt the chocolate morsels in a double boiler.
Slowly add the remaining 1/4 cup heavy cream and 1/2 cup yogurt.
Beat until smooth. Heat just until warmed through (do not allow to simmer).
Pour the sauce over the pears and serve.
Make sure to serve any additional whipped cream on the side.