Phyllo Fruit Tartlets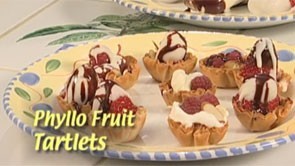 Print Friendly
Ingredients
16 mini frozen Phyllo cups
3 oz. semi-sweet Baker's milk chocolate, chopped
3 oz. semi-sweet Baker's white chocolate, chopped
1/4 lb. strawberries
1/4 cup raspberries
1/4 cup sliced almonds
3/4 cup heavy cream
1/4 cup shortening
Preparation
Follow phyllo cup baking directions.
Make the white chocolate icing by combining melted Baker's white chocolate with shortening. Mix until smooth.
Make the ganache by bringing the cream to a full boil in a medium sauce pan. Remove pan from heat.
Add the chopped chocolate and let sit for 1 minute.
Stir the mixture with a wire whisk until the chocolate has melted and the ganache is totally smooth. (Or simply melt chocolate in microwave on high for 1-to-1 1/2 minutes.)
Put ganache in bottom of cups.
Place fruit in cups and cover with sliced almonds and white icing.
Makes 16.