Poached Salmon Quenelles with Sorrel Sauce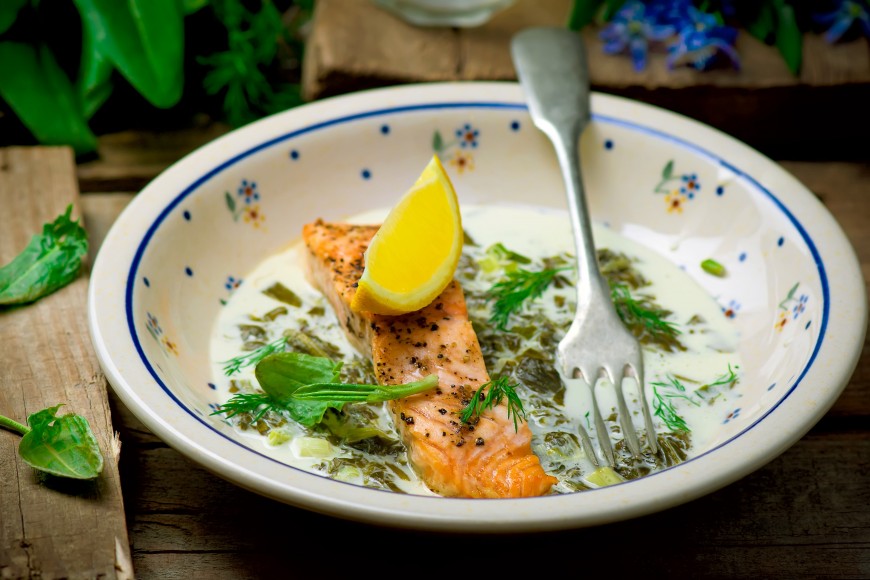 Print Friendly
Jean-Luc Matecat, Cinco, Nantucket, Massachusetts
Ingredients
1 lb. good-quality salmon
4 oz. Nantucket Bay scallops
1 scant cup heavy cream
1 tablespoon salt
White pepper, to taste
1 cup white wine
1/4 cup mushroom stems
1/4 cup sliced shallots
1/2 cup cream
Sorrel
Preparation
Add cleaned salmon and scallops to food processor bowl, and place in freezer for 5 minutes. Remove and pulse until ground.
Next, slowly add cream, scraping the sides as you go.
Finally, add salt and pepper, and place mousse in refrigerator until chilled.
Bring a pot of water to a boil on the stove and turn down to a very faint simmer.
Spoon the mousse in 1 oz. quenelles into the poaching liquid, and cook with parchment paper over the surface for 8 minutes.
Remove with a slotted spoon, and let drain.
Sorrel Sauce Preparation
Place wine in a non-reactive sauce pan, and place the shallots and mushroom stems in. Reduce until syrupy, then place the cream into the pot. Reduce slightly and strain. Season with salt and pepper and set aside until serving time.
When you have removed the salmon quenelles from the poaching liquid, put your white wine sauce back on the stove, chiffonade the sorrel, and throw it in.
Turn off the heat, place salmon quenelle on a bed of greens, and drizzle with your sorrel sauce.
Serves 10.