Pork Tenderloin with Arugula Fennel Salad and Fried Polenta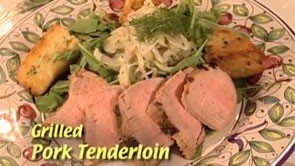 Print Friendly
Polenta Ingredients
8 oz. chicken stock
4 oz. corn meal
2 tablespoons sage
2 tablespoons thyme
1 teaspoon parsley
1 cup fresh parmesan cheese, shredded
Polenta Preparation
Bring stock to boil in saucepan.
Gradually add corn meal, whisking constantly. Whisk until mixture is very thick and starts to pull away from pan. Remove from heat.
Stir in sage, thyme, parsley, and cheese.
Transfer polenta to loaf pan to cool.
To warm, remove 2-inch slice from loaf pan, place in 3 tablespoons olive oil over medium-high heat, and brown until golden.
Pork Tenderloin Preparation
Lightly rub 5 oz. pork tenderloin with olive oil, salt, and pepper.
Grill until internal temperature reaches 155 degrees F, and let rest for about 15 minutes before cutting.
Salad Ingredients
1 head of fennel
1 small red onion
2 cups arugula
Salad Preparation
Arrange bed of fennel and arugula on 12" plates and top with sliced onion.
For Salad Dressing
Mix 1/2 cup olive oil and 3 tablespoons red wine vinegar.
To Serve: On plate, place polenta a little off center. Slice pork and place around the polenta. Add salad dressing, and serve immediately.
Serves 4.