Potato Enrusted Grouper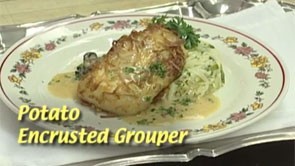 Print Friendly
The Inn at Sawmill Farm
Ingredients
Shredded potatoes
Filet of grouper
Egg batter
Flour for dusting
Olive oil
Preparation
Put potatoes in cold water and bring to a boil. Simmer one minute. Drain thoroughly, then drip dry.
Shred the potatoes into strips and refrigerate.
Salt and pepper the fish, and dust in flour. Dip in egg batter. Pat potatoes onto fish.
Heat oil (about 1/4-inch deep) in a sauté pan. Sauté on each side on medium heat for approximately 3 1/2 minutes.
Dress with a classic buerre blanc sauce.