Potato Galette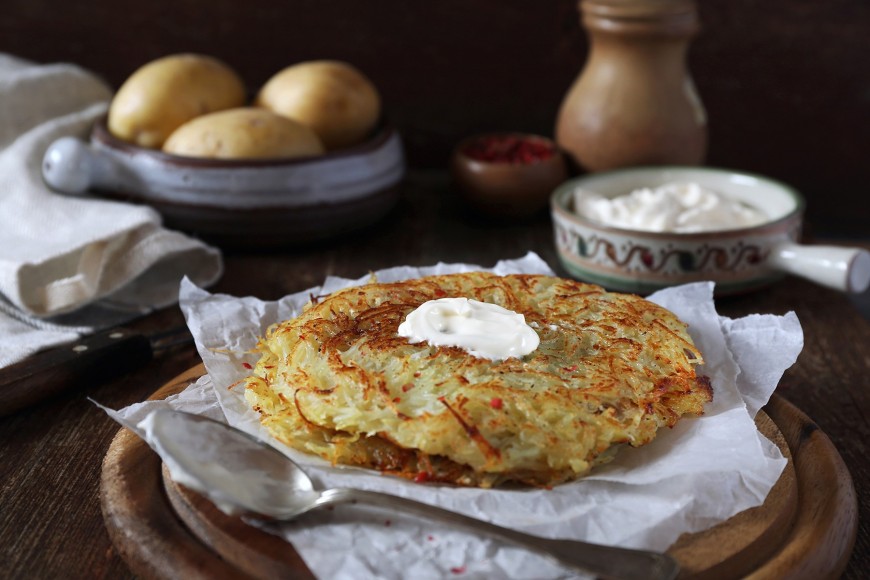 Print Friendly
Galette Dough Ingredients
(courtesy of Julia Child)
3 tablespoons sour cream (or yogurt or buttermilk)
1/3 (approximately) ice water
1 cup King Arthur's all-purpose flour
1/4 cup yellow corn meal
1 teaspoon sugar
1/2 teaspoon salt
7 tablespoons cold unsaturated butter, cut into 6-to-8 pieces
Galette Dough Preparation
Stir sour cream and 1/3 cup ice water together in a small bowl and set aside.
Put the flour, cornmeal, sugar, and salt in a large bowl and stir with a fork to mix.
Drop the butter pieces into the bowl, tossing them once or twice, to coat them with flour. Work the butter into the flour, aiming for pieces that range in size from bread crumbs to small peas (the smaller pieces will make the dough tender, the larger pieces will make the dough flaky).
Sprinkle the cold sour cream mixture over the dough, 1 tablespoon at a time, tossing with a fork to evenly distribute it.
After all the sour cream is added, the dough should be moist enough to stick together after pressed. If it's not, add additional cold water, 1 teaspoon at a time. With your hands, gather the curds of dough together - you'll have a soft malleable dough. Chill the dough.
Then take the dough out of the bowl and divide it in half (or quarters, depending on how many pizzas you want to make). Press each piece of dough into a disk, wrap in plastic, and rest it for at least 2 hours.
Potato Filling Ingredients
2 large russet potatoes, peeled and cut into 1/4-inch think slices
4 tablespoons (1/2 stick) unsalted butter
Caramelized onions (see recipe below)
1 cup button mushrooms
1 cup fresh shiitake mushrooms, stemmed, sliced
1 onion, sliced
1 cup heavy cream
1/2 cup beef stock
Salt and pepper, to taste
Potato Filling Preparation
Bring large pot of salted water to boil. Add potato slices and blanch 3 minutes. Drain and cool - pat dry on paper towels.
Soak potatoes in cream, salt, and pepper.
Melt butter in large skillet over medium-high heat. Add button mushrooms and shiitake mushrooms, and saute until tender- about 4 minutes. Transfer to bowl using slotted spoon.
Place onions and mushrooms in center of dough disk. Place slices of potato around onions and mushrooms.
Fold edge of dough around onions, mushrooms, and potatoes - to make something that looks kind of like a purse.
Cook at 350 degrees F for about 30 minutes.
To serve, put on a plate with warm beef stock poured underneath.
Caramelized Onions Ingredients
1 onion, sliced
2 tablespoons butter
Water
Caramelized Onions Preparation
Place onions in pan cook over medium heat. Add butter and stir till onions are darkened. Add water to deglaze the pan.
Note: You can also make a sweet galette with your favorite berries