Prosciutto Chicken Saute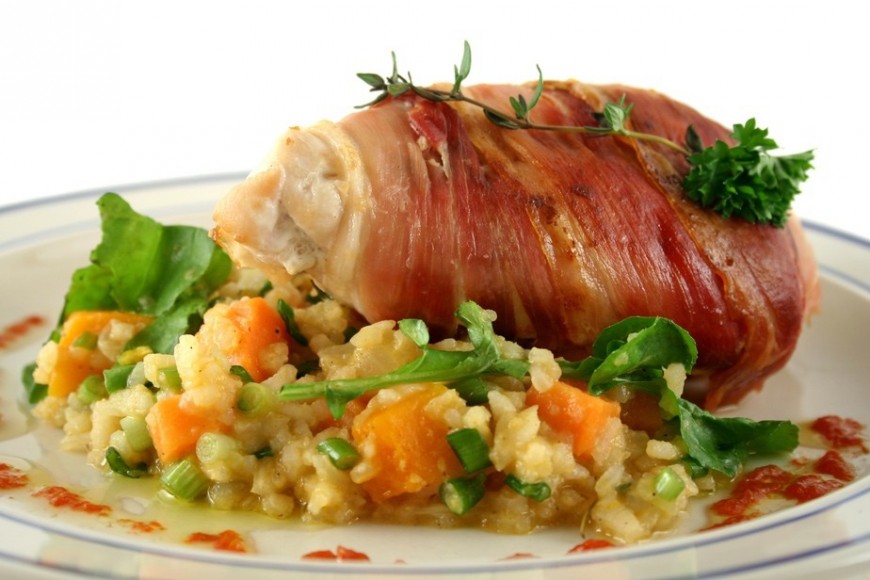 Print Friendly
Ingredients
1 pound boned and skinned chicken breasts, sliced 1/4-inch thick
1/4 pound prosciutto, sliced paper thin
3 tablespoons olive oil, for sautéing (or 2 tablespoons butter)
1/2 cup flour, for dredging
1/2 teaspoon pepper
1/2 cup dry white wine
1/2 cup Vermont Butter & Cheese Crème Fraiche
1 whole lemon, wedged
1 pound Swiss chard, steamed
1 bunch basil, fresh
1 tablespoon garlic powder
Preparation
Have chicken breast sliced very thin or slice into strips and pound into 6 thin slices.
Add pepper and garlic to flour for dredging chicken. Do not use salt, because prosciutto is salty.
Prepare this dish by placing several basil leaves atop a prepared chicken breast slice. Press basil firmly into the chicken.
Top with a slice of prosciutto held in place with a toothpick woven through.
Dredge in seasoned flour, and set aside while preparing the rest of the slices.
Sauté packets in the olive oil about 2 minutes per side, turning only once. Set aside to drain on paper towel.
Drain oil from skillet and add the wine to deglaze pan.
Add Vermont Butter & Cheese Crème Fraiche, and stir to allow crème to melt and blend with wine.
Serve each packet on a bed of the Swiss chard.
Pour 2 tablespoons sauce over each packet.
Serve with lemon wedges.
Serves 6.