Puff Pastry Filled with Gorgonzola & Apricot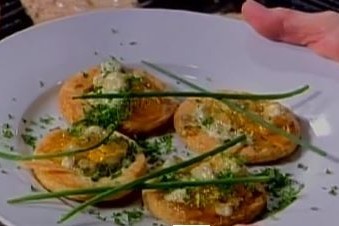 Print Friendly
Robert Dekeersgieter, Spirit of the Ethan Allen III, Burlington, Vermont
Ingredients
1 sheet of puff pastry
4 oz. gorgonzola (dulce preferred)
2 oz. apricot jelly/jam
1 egg
Preparation
Punch out with a wine glass 10-12 circles, make a smaller circle in the center of the puff pastry, and brush with egg-wash.
Bake in a 425 degrees F oven for about 5 minutes or until nice gold color. If the pastry has risen too high, it is ok to push it down a little while still hot.
Peel out the small inner circle of the pastry and keep lid aside.
Fill with the gorgonzola cheese and brush with the apricot glaze.
When ready to serve, place the pastries in the oven for about 30 seconds so not to burn the crust.
Take out of oven, place on serving plate, and replace lid and serve.
Makes 10-to-12 pieces.